World Mental Health Day 2018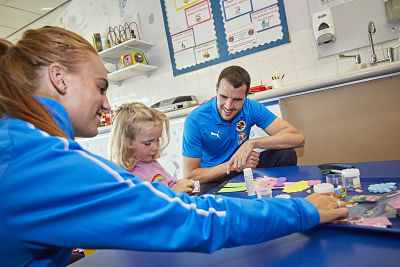 Mental health (or 'wellbeing') is something that affects us all have and it's important that we take just as much care of our mental health as we do our physical health.
Our mental health can change throughout our lives, sometimes causing us anxiety and low mood or, in some cases, more serious and long-term conditions. That's why it's important for all of us to take the time to reflect on and talk about our own mental health.
On Wednesday 10 October, we celebrated World Mental Health Day (WMHD) by promoting mental health education and awareness and working towards reducing the stigma surrounding mental illness.
#StrongerTogether event in Slough
Our mental health teams in Slough came together to raise awareness around mental health and barriers to treatment, and to showcase the work we do to support the wellbeing of the local community. We heard from a number of speakers on the day, all sharing their personal journeys through our mental health services and beyond.
#HelloYellow!
The theme of this year's WMHD is young people and mental health in a changing world. So we thought this would be a great opportunity to show children and young people that we're here to support them by joining the #HellowYellow movement and wearing the brightest shades of yellow we could find.
Take a look at the YoungMinds Guide to Support for help in accessing our CAMHS services.
Your mental health and sport
Exercise and sports isn't just a great way to stay physically healthy, it can also have a real impact on your mental wellbeing.
Our mental health practitioners invited hockey favourites, Sophie Bray and Chris Grassick (both from Team GB) and football stars Molly Bartrip (England U23 Internationals), John O'Shea (ex-Man United player) and Paul McShane (Republic of Ireland Internationals) to join them at Royal Berkshire Hospital to discuss how sport can have a positive effect.
They were joined by local services dedicated to supporting mental health, including SportInMind, Compass, Reading Recovery College and Healthwatch.