Andy supporting our Rapid Response and COVID-19 testing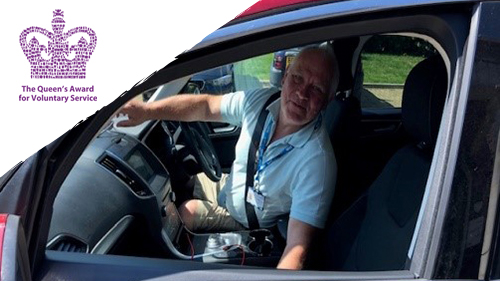 Andy has kept himself busy during lockdown by volunteering his time his services to two of our essential critical services; our Rapid Response and Treatment (RRT) service for Care Homes and at one of our three COVID-19 test centres.  
His work for the RRT service involves twice daily calls to check if they have any prescription requests, collecting the medication from the pharmacy and delivering this to care homes across West Berkshire. Andy's help means that care homes don't have to send their staff to get medication and can focus on their residents' care needs. 
He's also spent time, sometimes up to eight hours a day, managing the flow of patients at our Newbury COVID-19 test centre a couple of days a week. He said:
"I've been volunteering with the NHS every week for a year now. I started by visiting patients in West Berkshire Community Hospital. After the outbreak, my volunteer role on the ward was suspended and I decided to continue to volunteer to help anywhere I could." 
"I'm pleased to be able to help, I'm sure other people who are able to would do the same. I'm enjoying working with all the new people I've met, not only are they caring, dedicated and professional they're a real inspiration to me. I'm having a lovely time. 
"Thank you everyone in the NHS for all that you do. You're fantastic."