A special day for an inspiration member of our team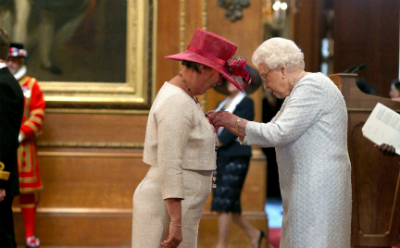 Congratulations go to Alison Durrands, our Divisional Director of In-patient Mental Health, who received her MBE from Her Majesty the Queen on Friday 22 March at Windsor Castle for services to Allied Healthcare.
Alison said: "I have been in the NHS over 30 years and truly believe in it and the values it stands for. My family often say that I am NHS to the core.  I believe in its core values and those of Berkshire Healthcare."
She concluded: "I had a fantastic day on Friday when I received my MBE at Windsor Castle .  I was lucky to be able to have all my family with me and is was a delight to meet the Queen at one of the two investitures she does a year at Windsor Castle. I continue to feel humbled and honoured to have received the award on behalf of all the staff in Berkshire Healthcare and at Prospect Park Hospital."