Aneela's story - Celebrating women at Berkshire Healthcare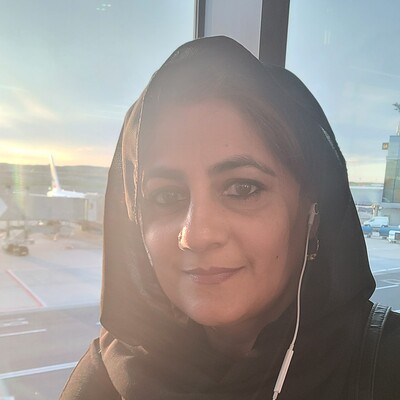 International Women's Day (8 March) is a valuable opportunity to champion gender equality in the workplace and celebrate the fantastic achievements of the women (and trans women) we work with. This year's theme is 'Embrace Equity' which calls for all of us to challenge gender stereotypes, call out discrimination, draw attention to bias, and seek out inclusion.
We spoke to five inspirational women from a range of different roles across our Trust, to find out about their career journeys and achievements. Aneela Mushtaq is a Data Quality Manager. 
You can read Aneela's story below, and others on our website
Read about the other stories for International Women's Day 2023 
Can you tell us about your career journey?
I joined the NHS in 1994 working for the Royal Berkshire Ambulance NHS Trust. I moved to the Royal Berkshire Hospital in 1996 and stayed until I was made redundant in 2012. I then joined Berkshire Healthcare and am still here! I have also worked in a GP Practice, seconded from the RBH, and have remained as a volunteer within the same practice ever since.
What do you enjoy most about working for the NHS?
I enjoy the flexibility the NHS roles have offered me over the years. This enabled me to have time for my children, as they were growing up, without compromising my career. Now my kids are adults, I can focus on caring for my elderly parents whilst working full time.
What advice would you give to other women considering a career in the NHS?
The workforce is predominantly female which is a huge advantage for women looking to join the NHS. The empathy and flexibility of work-life balance is there for women of all ages, whether you are starting a family or going through the menopause, there is lots of support available.
How does the Trust support its female workforce?
The Trust acts upon all staff feedback. The Trust needs all employees to be happy at work and supports the female staff in many ways. There are policies covering family friendly working, flexible working, term-time contracts, and carer's leave is also available. A recent addition is the Peppy app available for employees going through the menopause.
Find out more
Work for us
We welcome people who share our values to come and work for us