Are you caring for someone with dementia?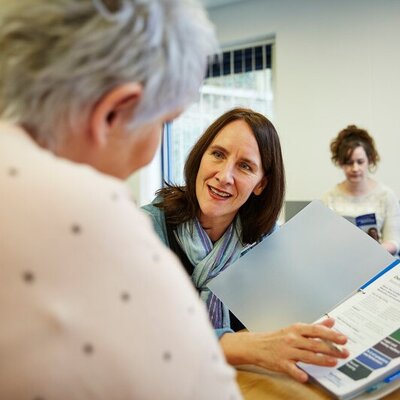 This week is Carers Week, a time to raise awareness, highlight the challenges carers face and recognise the contribution they make to families and communities throughout the UK.
Dementia commonly effects older people, and with an aging population, the number of carers supporting people with dementia has increased.
More than 920,000 people in the UK are living with dementia – a number expected to rise to over a million by 2024 (Alzheimer's Society, 2019). Rates of diagnosis are improving but many people with dementia are thought to still be undiagnosed.
Dementia is an umbrella term used to describe a range of progressive neurological disorders that affect the brain. It damages the nerve cells in the brain, preventing messages being sent to and from the brain effectively.
Regardless of which type of dementia is diagnosed, each person will experience it in their own way. 
What to do if you're concerned about Dementia
If you think someone you are caring for may have dementia it is important to seek medical advice as soon as possible.
Memory problems can be caused by a number of things, including reversible problems, like depression, vitamin deficiencies and other physical health problems, which can be addressed by your GP.
Once these are ruled out, patients are referred to Memory Clinics for assessment. Depending on the type of dementia a person has, medication may be prescribed to slow down the progress of the condition. Patients can also access treatments such as cognitive stimulation therapy.
There's also support groups for both patients and carers that can be helpful.
Visit the Dementia UK website (opens in a new browser tab)
Visit the Alzheimer Society's website (opens in a new browser tab)
If you have concerns about the memory of a loved one, early diagnosis can help them to keep their independence for longer and give you time to prepare for the future, so that you have support systems in place. 
Get involved in Carers Week
This Carers Week there are a number of virtual events taking place, to help people feel connected and supported. We're hosting:
Gardening and games, via Microsoft Teams, 8 June, 2-3pm
Vintage afternoon tea party, 10 June, 1-2.30pm
Contact Hannah Deighton to book your place at either of these events 
Email Hannah.Deighton@Berkshire.nhs.uk 
All carers in Slough are welcome to join our Mindfulness Session on 9 June at 10.30am, and our Creativity Workshop on 9 June at 6.30pm. 
Contact Anthea Husbands to book your pace