Are you qualified to drive an HGV?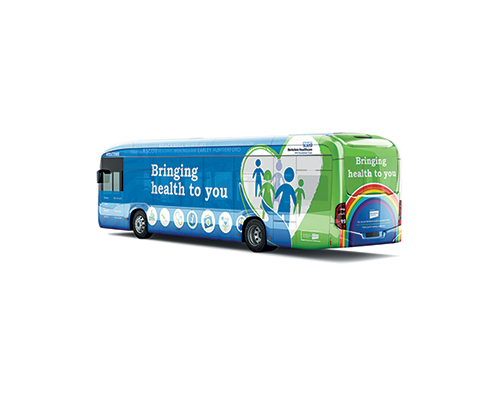 We're looking for qualified HGV drivers to help us take our clinical services on tour across Berkshire (starting with the school-aged Immunisations service)!
We're working hard on creating our very first Health Bus to help us bring our healthcare services out into the local community, making healthcare truly accessible for all. We're nearly 'road ready' – we've branded the outside, refitted the interior, and added power and running water (so you can grab a cup of tea on a chilly day). All we're missing is qualified HGV drivers who can help us get out there and start visiting local areas.
What are the pay and hours?
This is a part-time role and if you sign up as a driver, you'll be paid at a Band 6 (approximately £24 per hour) and can choose which days you want to work (we're operating 9am - 5pm, Mon-Friday and the occasional Saturday) through our national Staff Bank, NHS Professionals (NHSP).
Whether you can work only one day a month or multiple times a week, please get in touch by emailing HealthBusEnquiries@berkshire.nhs.uk.
What are the responsibilities of this role?
All our drivers will be asked to start and finish their day at Erlegh House (University of Reading) where our Health Bus will be kept when it's not in use. You'll then be responsible for:
Performing any maintenance checks needed, and we'll provide you with training and guidance for this
Checking that all the bus and healthcare equipment is securely stored away at the start and end of the day
Safely driving our bus, and any team members who are travelling on board, to locations across Berkshire
Getting the bus ready for patient visits, including setting up our awning for when it's rainy and windy
Meeting and greeting walk-in patients and helping them access our services
Read the full Job Description for this role 
How do I join NHSP?
You can join NHSP today by visiting the NHSP website.
You'll need to set up an account and complete an application form, including information on:
National Insurance Number
Right To Work Information (i.e. British Passport or Visa Details)
Bank Details
Emergency Contact Details
Referee OR Authoriser details
Registration Body details (if applicable)
Once you're signed up to NHSP, you can also book shifts in other teams and NHS organisations that might fit your skillset.
Interested in the role?
Email us at HealthBusEnquiries@berkshire.nhs.uk today and we'll help you get started in this new role.