Berkshire Healthcare staff amongst winners for Thames Valley Health Research Awards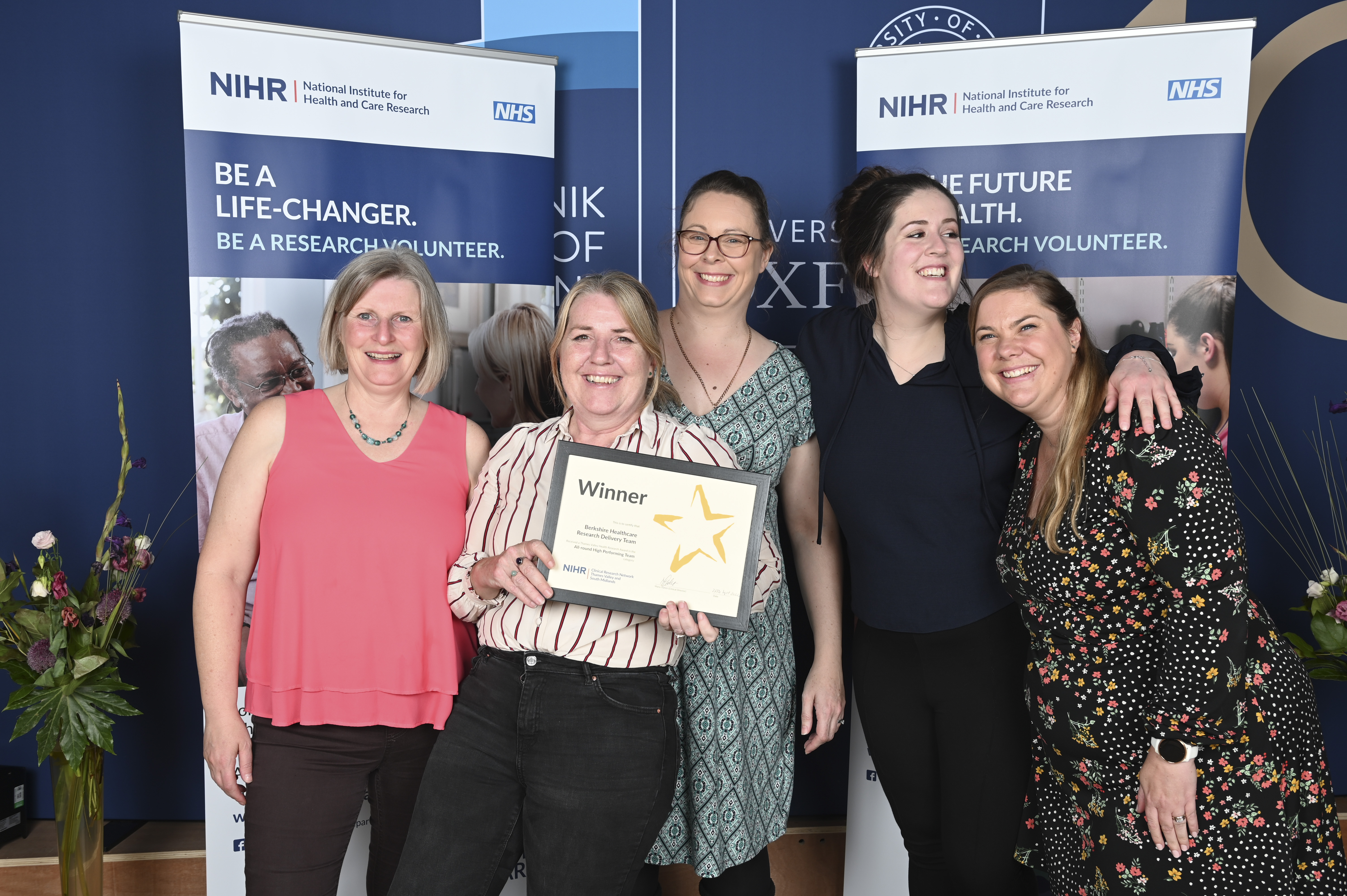 A huge congratulations to our Clinical Research Delivery Team who have won the All-Round High Performing Team category, our Deputy Chief Pharmacist Elizabeth Francis, who was highly commended for the Outstanding Allied Health Professional award, and our Clinical Physiotherapy Specialist Hayley Alderton, who has won the Research Rising Star category. This is an impressive achievement with the finalists selected from more than 150 nominations across the Thames Valley.
The Trust has a diverse portfolio of research, delivering projects in areas such as mental health, dementia, diabetes, sexual health, COPD and Coronavirus, and this work helps us develop new treatment and improve our patient's quality of life.
Kate Penhaligon, Head of Research and Development said: "We are immensely proud of the hard work and determination the team has to provide research opportunities to our patients and staff. It was humbling to hear the nominations across the region".
The following were also nominated for their contributions within the Trust:
Outstanding contribution to public health or social care research
Berkshire Healthcare Research & Development Team
All-round High Performing Team
The Garden Clinic
Outstanding Allied Health Professional
Alva Liu, Assistant Research Practitioner / Laboratory Technician
Rosie Murdoch, Clinical Research Practitioner
Diana Pattinson, Clinical Research Practitioner
Rajvinder (Raj) Shokkar, Clinical Research Practitioner
Sital Tailor, Senior Clinical Research Practitioner
Samantha (Sammy) Morris Watts, Clinical Research Practitioner
Research Rising Star
Dr Grace Jell, Research Fellow
Dr Nisha Pal, Consultant Sexual Health and HIV
Samantha (Sammy) Morris Watts, Clinical Research Practitioner
Outstanding Research Team Leader
Sarra Blackman - Lead Clinical Research Nurse
Emma Donaldson - Lead Clinical Research Practitioner
Contribution to COVID-19 research award
Sarra Blackman - Lead Clinical Research Nurse
Exceptional Contribution to a Commercial Study
Clare Megson, Senior Research Nurse
Outstanding CRN Core Team Member
Sital Tailor, Senior Clinical Research Practitioner
Research Nurse of the Year
Clare Megson - Senior Research Nurse
Outstanding member of support staff
Barbara Moye, Library manager