BMW helping our staff get to work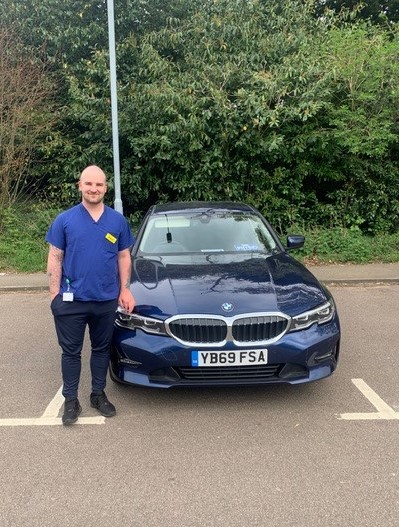 We've all thought about what it would be like to drive the latest BMW, well for Harri this became a reality when BMW loaned us five cars which we're using to deliver Personal Protective Equipment (PPE), help staff get around and to visit patients. Meet Harrison King, who is using one of the cars.
Harri, one of our Respiratory Technicians, was still new to Berkshire Healthcare when he was asked to take on a new role. After discussing the options, he decided that he would like to be redeployed into the District Nursing team for the opportunity to learn new skills and help others.
On his first day in the new role Harri's car broke down and he was stuck. But luckily one of the loaned BMWs, which were given to us for an initial eight-week period to help during the COVID-19 crisis, was still available.
Without the loan car, Harri wouldn't have been able to pick up this role and we'd have one less District Nurse in Berkshire. Harri, said, 'the car was essential as we do so many miles each week, it's been great – I don't want to give it back'.
Harri is thoroughly enjoying his new role, he says "I've learnt so much already, I've been dressing wounds and ulcers and doing so many things I hadn't done before. I also enjoy getting to see a lot of different patients."
How you can help 
You can help us in the fight against COVID-19 by donating to our Just Giving Page, or by dropping off snacks and toiletries. 
NHS services up and down the country are being stretched to their limits and we need your help – you can do your part by signing up to the NHS Bank and working with us to fight COVID-19.
Life on the front line
It's a difficult time for everyone, and we're incredibly proud of how our teams and local communities are meeting the coronavirus challenge. We're sharing more good news stories and experiences from those working on the front line.