Build your future with us #NAW2021 - what our apprentices say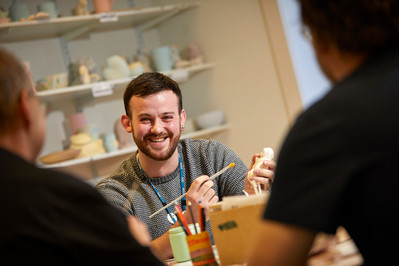 It's National Apprenticeship Week this week (8 to 14 February). The theme this year is 'Build the Future', we know how important our apprentices are to us, so we've taken personal experiences from our apprentices and managers to show you what it's like being an NHS superhero.
Don't forget to join our virtual careers evening on 9 February to learn more about the career opportunities at Berkshire Healthcare.
We've spoken to a couple of our managers and asked them about their apprentices.
Join our virtual careers evening 
We also spoke to a couple apprentices about their experiences with us.
Matthew Collier
We asked Matthew Collier about his apprenticeships that he has taken on with us.
Which apprenticeships have you completed within the Trust?
I have completed an Allied Health Professional Support NVQ level 3 in 2012.
I am currently undertaking the Integrated Apprenticeship Degree for Occupational Therapy at Coventry University and this is a 4 year course. 
Why did you choose to take on more apprenticeships within the Trust?
The Trust has been so supportive of my development and is helping me achieve my ambition of qualifying as an Occupational Therapist. The Trust apprenticeships are a fantastic way for me to learn and earn at the same time. I am able to still earn a liveable wage and then put all learning into practice in my working role with patients. The Trust has made my apprenticeships an enjoyable experience through the constant support and guidance in both educational and professional settings. This style of learning is very beneficial to me and I am thankful that the trust encourages its staff to progress in a variety of ways.
I would recommend apprenticeships within Berkshire Healthcare to anyone that want to develop their role further and have an enjoyable and practical way of learning!
Abdul Khan
We spoke to Abdul Khan who is currently in the process of completing the business administration apprenticeship.
What would you say to someone thinking about doing an apprenticeship with Berkshire Healthcare?
It's a learning experience that you will certainly cherish years to come. Working in the NHS will certainly shine a   spotlight on many great experiences you will have within the organisation. The people you meet, the things you'll learn, the obstacles you overcome. The best part about the NHS is that the learning experiences you will acquire cannot ever be replicated in any other organisation within this country and that makes the qualification you are looking to achieve within the NHS unique and worthwhile. 
Find out more
Take a look at our latest apprenticeship opportunities, and read more success stories from our apprentices