Celebrating achievements at our Staff Awards 2018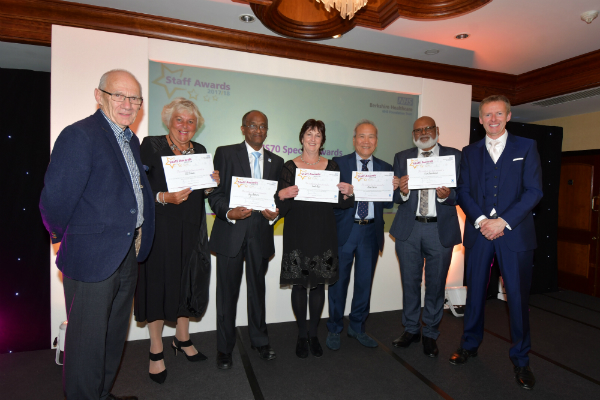 Last Friday, we hosted our annual Staff Awards celebration to recognise the outstanding contributions our staff have been making to both the lives of our patients and the quality of our services.
Our 24 shortlisted nominees - from both clinical and non-clinical teams - were welcomed down the red carpet before joining our executive members, Chairman, and judging panel for a three course dinner.
Julian Emms, our Chief Exec and host for the night, then welcomed our Chairman, Martin Earwicker on stage to present the first award, NHS70. This year sees the NHS celebrating its 70th birthday so it was only right that we asked our longest serving staff members – having each given at least 40 years to the NHS - to join us on stage.
Congratulations to our long serving staff members; Jill Gibson, Tracey Martin, Mandy Proctor, Jay Seeburn, Carol Muir, Rene Garcia, Kim Jaumbocus, Caroline Ruan, David Jiggins, and Sue Bishop.
As the night continued, our exec members gave a thought provoking and inspiring biography of each shortlisted nominee and the work they do, before the winners were invited to come on stage and receive their awards.
>Congratulations to all our winners:
Excellence in Practice – Learning Disability Intensive Support Team
Volunteer of the Year – Mark Dibben
Team of the Year (Non Clinical) – Specialist Services Administration
Team of the Year (Clinical) – West Berkshire Integrated Community Services
Employee of the Year (Non Clinical) – Cecily Mwaniki
Employee of the Year (Clinical) – Ashim Goswami
Julian Emms, our Chief said:
"Hearing about the work all of our nominees have done has been truly humbling. An absolutely brilliant evening, celebrating our amazing people and the outstanding work they do. I'm glad I wasn't a judge, distinguishing between some of those categories must have been nigh on impossible; the calibre has been so high.
"I would like to take this opportunity to thank all our staff and volunteers who regularly go above and beyond for patients and for each other, and have truly embodied the values that make our NHS such a wonderful and enduring organisation."