Celebrating our 73rd birthday with the #NHSBigTea on 5 July!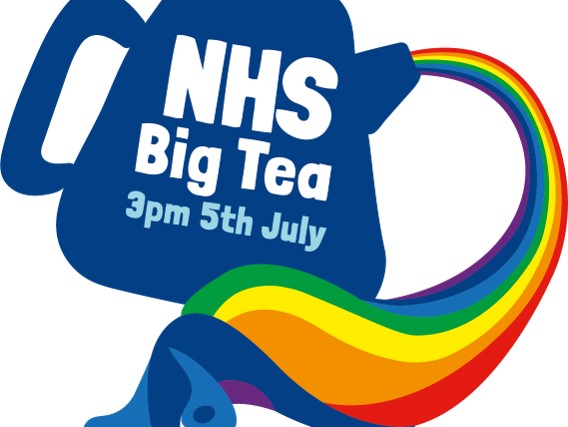 Join us on Monday 5 July 2021 for the 73rd birthday of the NHS and take part in the #NHSBigTea. It's a national outpouring of love, thanks, and generosity for the people at the heart of our NHS.
You can support your local NHS staff, patients and families using our JustGiving page for the #NHSBiGTea. So to celebrate the NHS's birthday and our amazing NHS staff, join us in taking 5 minutes to have a cuppa, gifting £5 and tagging 5 friends.
Your support will provide much-appreciated supplies and services, that are over and above what the NHS can fund.
There are two ways to take part in the #NHSBiGTea, you can:
Host a socially distanced gathering over a cuppa (following all Covid guidelines, of course)
Take five minutes for yourself, grab your cuppa, and take that time to reflect and relax – because after these past months, you deserve this.
Get involved in a way that works for you and join us to celebrate the NHS 73rd birthday by raising a mug (of tea, coffee, juice, coconut milk or whatever your personal choice is) and helping us to raise some money to support your very own NHS today.
And for anyone who is interested in NHS history here's a timeline of some interesting moments since our NHS began in 1948.
Timeline of the history of the NHS
1948: On 5 July 1948 Aneurin Bevan launched the very first day of the NHS, at Park Hospital, in Manchester (known today as Trafford General Hospital).
1958: The first mass vaccination programme. Everyone under the age of 15 was vaccinated against polio and diphtheria in a programme in 1958. Before the vaccinations, cases of polio climbed as high as 8,000 and diphtheria as high as 70,000 in epidemic years, resulting in 5,000 deaths.
1968: Britain's first heart transplant was carried out at the National Heart Hospital, in Marylebone, London.
South Africa-born surgeon Donald Ross led a team of 18 doctors and nurses to operate on 45-year-old Frederick West in a seven-hour procedure. The donor was 26-year-old labourer Patrick Ryan.
West died 46 days later from an associated infection. Only six further transplants were carried out over the following 10 years, for fear of failure.
1978: World's first test-tube baby. A new technique to fertilise an egg outside a woman's body before replacing it in the womb was developed by Dr Patrick Steptoe, a gynaecologist at Oldham General Hospital, and Dr Robert Edwards, a physiologist at the University of Cambridge.
Lesley Brown gave birth to the world's first test-tube baby, Louise Brown, in 1978.
1988: NHS workers in England, and some in Northern Ireland, staged the first strike in more than 30 years over pay. It was on a Monday and started at 7am and ended at 11pm. Staff including midwives, nurses, ambulance crews, porters and office workers took part.
1998: NHS Direct was launched becoming one of the largest single e-health services in the world, handling more than half a million calls each month. The nurse-led telephone information service provided residents and visitors in England with healthcare advice 24 hours a day, every day of the year.
2008: Berkshire Healthcare NHS Foundation Trust scored a top health check in an annual performance review of NHS services across England. The Healthcare Commission report rated Berkshire Healthcare NHS Foundation as 'Outstanding'. The Trust provides care for people with mental health problems across the county. It was given top marks for the safety and dignity of care afforded to patients, cleanliness, waiting times and excellent finance management.
2018: Hospitals in a race to combat 'toughest ever' winter crisis for NHS.
Hospitals had to bring in GPs, reopen mothballed wards and offer day-care for their staff's children in a desperate attempt to avoid being overwhelmed through the winter. The unprecedented array of emergency measures was a response to signs that in some places the number of people turning up at A&E was as much as 30% higher than the year before.
2021: On 8 June there were more than one million bookings for a COVID-19 vaccine through the NHS website, a record high figure and the first-time daily appointments booked through the national booking service have topped the million mark. The "blockbuster" surge in jabs being reserved yesterday is the latest landmark in the biggest and most successful vaccination drive in NHS history, as the NHS COVID Vaccination Programme opened to people in their twenties and marked six months since the first vaccination was given. As eligibility extended to people aged 25 to 29, a total of 1,082,596 first and second dose slots were snapped up across the day online and by phone, around 45,000 an hour on average and more than 750 every minute, over the full 24 hours.