Drive to become Armed Forces friendly employer recognised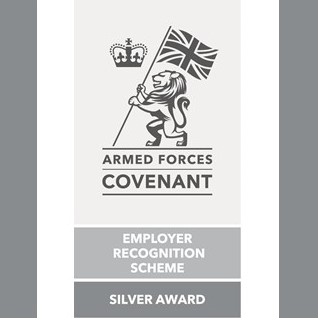 Today, we're one of just 48 organisations across the South East of England to be awarded the Ministry of Defences' Employer Recognition Scheme Silver award.
The awards recognise the support provided to all those with a connection to the Armed Forces including reservists, veterans, cadet force adult volunteers and spouses/partners.
Dawne West, Manager of our Op COURAGE Veterans Mental Health and Wellbeing Service and Chair of our Armed Forces Steering Group, said:
"We're delighted to be recognised with a Silver award and are already working hard to achieve Gold accreditation. The skills and experience that veterans gain during their time in the forces bring huge value to the NHS so it's really important to us that we recognise and value their important contribution. We're fully committed to being a forces-friendly employer and to giving veterans, reservists and their families every opportunity to build a fulfilling career with us."
In total 139 organisation in the South East have earned a silver award since the scheme was launched in 2014, with 48 being awarded in this latest round.
Colonel (Retired) Patrick Crowley, MBE DL, Chief Executive, South East Reserve Forces' and Cadets' Association (SERFCA) on behalf of Defence Relationship Management, MOD, and SERFCA said:
"I am delighted that 48 private and public sector organisations have been awarded the Silver award this year by the MOD. In addition, five existing Silver award holders have been revalidated for another five years. These numbers are higher than usual, despite the background environment of the pandemic, which is brilliant. It demonstrates the importance of the Defence-Employer relationship, which is of mutual benefit to both parties."
To be considered for a silver award, organisations must provide five extra days leave for Reservists and have in place supportive HR policies for employees who are veterans, Reservists, and cadet force adult volunteers, as well as spouses and partners of those serving in the Armed Forces.
Organisations should also advocate the benefits of supporting those within the Armed Forces community by encouraging others to sign the Armed Forces Covenant and engage in the Employer Recognition Scheme.
Find out more