Duchess of Gloucester opens new West Berkshire cancer and renal wing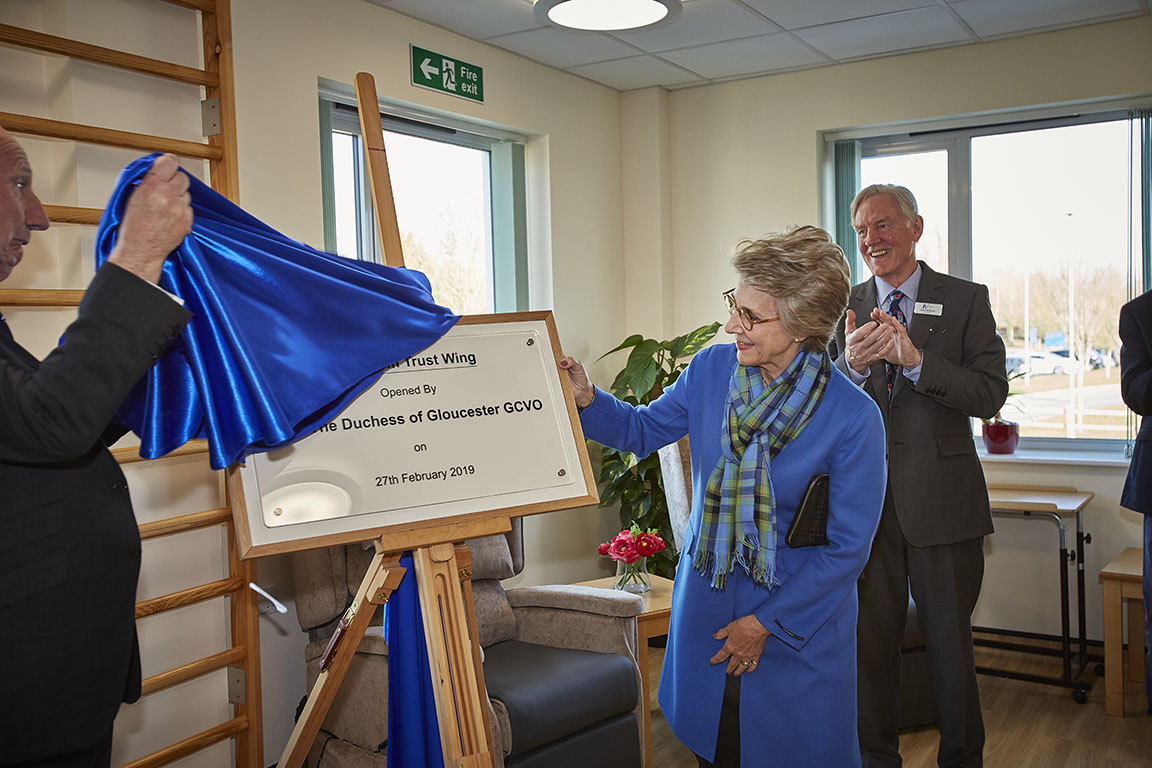 On 27 February, Her Royal Highness The Duchess of Gloucester opened the newly built Greenham Trust Wing at Berkshire Healthcare's West Berkshire Community Hospital, located close to Newbury.
Funded solely through donations to the Rosemary Appeal, the Greenham Trust Wing cost over £5.3m to build and fit. Housing three separate facilities, the new wing comprises of the Enborne Unit, providing a renal dialysis service, the Rosemary Centre delivering care to patients requiring chemotherapy and other intravenous therapies, and the Sue Ryder day therapy centre offering palliative, neurological and bereavement support.
Her Royal Highness was given a tour of the building and met with patients and staff. She heard how the new facilities have already transformed care for local patients, bringing treatment closer to home and helping to improve the quality of their lives.
Jenna Mckendrick, suffered acute kidney injury in September 2017, which resulted in her needing dialysis three times a week. Explaining the impact the new unit has had on her life, she said:
"Working part-time and with a young daughter I used to have to travel to the Royal Berkshire in Reading for my dialysis on what is known as the twilight shift to fit around my commitments. Sometimes I wouldn't be home until after midnight.

"Having the new unit so close to home has made a huge difference. I now go for my dialysis in the afternoon and am back much earlier to enjoy family time. It really has transformed my life."

At the close of the visit Her Royal Highness unveiled a commemorative plaque, whilst joined by guests, including the Lord Lieutenant of Berkshire Mr James Puxley, Councillor Margo Payne Mayor of Newbury, Councillor Carol Jackson-Doerge Chair West Berkshire Council and Sir Philip Wroughton, former Lord Lieutenant and donor.
Steve McManus, Chief Executive for the Royal Berkshire NHS Foundation Trust thanked Her Royal Highness and visiting dignitaries for attending, and paid special thanks to the Trustees of the Newbury and Thatcham Hospital Building Trust and Newbury Cancer Care for their commitment, tenacity and hard work in raising the funds for the impressive, new facility.
He said: "I am delighted that we are here today for the official opening of the Greenham Trust Wing. That it's here and of the quality that it is, is thanks to many of the people who are here to celebrate its opening. I know there were a number of challenges along the way, and I would like to say an enormous thank you and well done.
"Your thoughtfulness and generosity of your time, along with your fantastic fundraising efforts and donations received, are all very much appreciated. On behalf of us all and particularly the patients that will benefit, thank you once again."
Martin Earwicker, Chair of Berkshire Healthcare Foundation Trust, said: "This building is the product of excellent partnership working across many stakeholders not just the NHS. We are grateful to the Newbury & Thatcham Hospital Building Trust and to Newbury Cancer Care for their dedication and commitment to deliver this wonderful project. We are also thankful to the local population of Newbury for its generosity to the Rosemary Appeal, it has enabled us to deliver a very modern, purpose-built unit for some extremely important clinical services. These services will enable particularly vulnerable patients to be cared for within a few minutes of their home."