Eating disorder collaborative wins NHS Parliamentary Award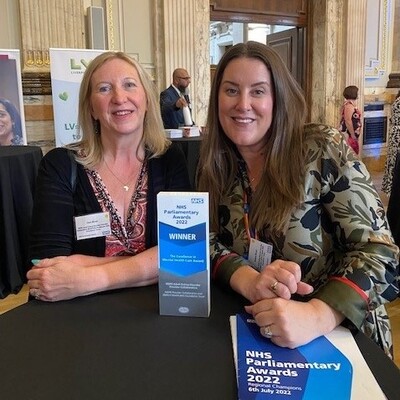 The HOPE (Healthy Outcomes for People with Eating disorders) Adult Eating Disorder Collaborative has been named the national winner of the Excellence in Mental Health Award at the prestigious NHS Parliamentary Awards 2022 for their revolutionary approach to treating patients with an eating disorder.
The Collaborative is the result of a partnership between Oxford Health NHS Foundation Trust, Berkshire Healthcare NHS Foundation Trust, Gloucestershire Health and Care NHS Foundation Trust and the Priory Group.
HOPE's innovative approach was co-designed by a multi-disciplinary team together with the patients and their families and carers. It combined a time limited, planned admission of 13 weeks, with the goal of full weight restoration, seven weeks of stepped down day treatment, and ongoing outpatient cognitive behavioural therapy.
Its compassionate treatment model involves focusing on the patient and their wider circumstances, which enables people to recover and thrive close to their home, friends, family and as part of their community.
The results showed that participants achieved weight restoration quicker, spent less time on inpatient wards, and reduced hospital readmission rates by 75%.
Of 120 patients who took part in the programme 70% maintained healthy weight after one year compared to just 5% of patients receiving traditional treatment.
Only 14% of patients on the HOPE treatment model were readmitted to hospital compared to 60% of patients receiving traditional treatment.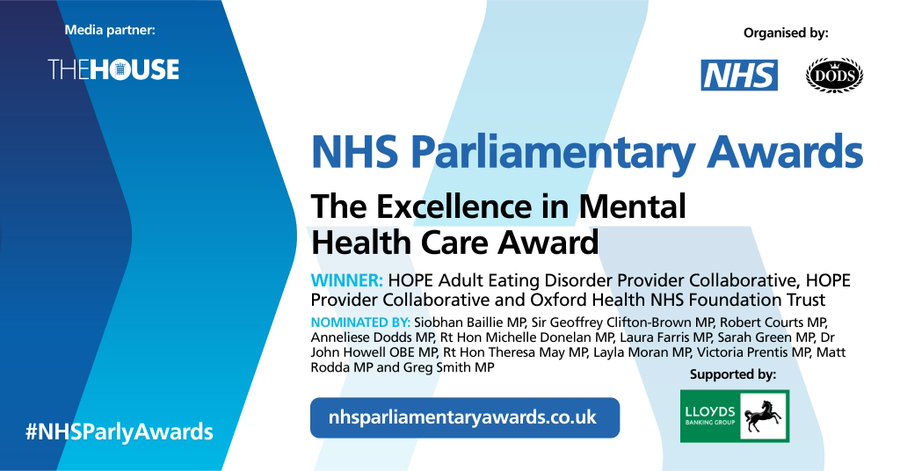 Clare Moran, Consultant Clinical Psychologist and Service Manager at Berkshire Healthcare NHS Foundation Trust, said:
"This is a great example of where collaboration drives innovation and directly improves patient care.  Our intention in HOPE has always been to provide minimal disruption to patients' lives and to treat them locally to both their loved ones and their community team as far as possible. We are proud to work in partnership Eating Disorder colleagues in neighbouring Trusts. It was also wonderful to have our efforts and hard work recognised by 13 MPs, including our local (Maidenhead) MP, Theresa May, who nominated us for this award."
The treatment model is endorsed by NICE and is expected to be implemented by other services nationally and internationally.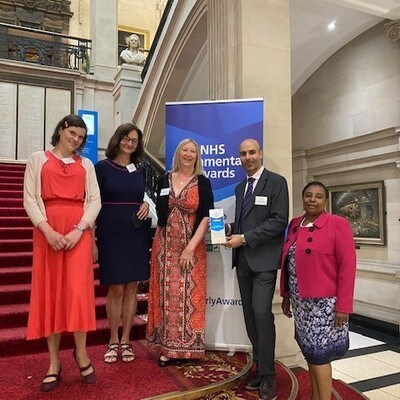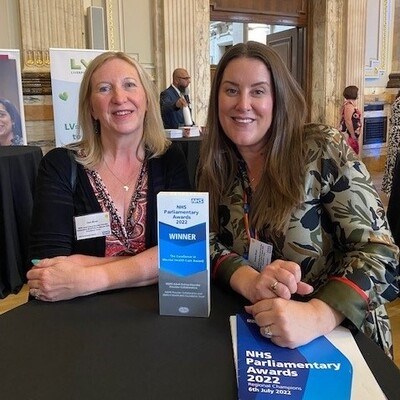 Pictured
In the group photo (From left to right) Dr Lorna Collins, Patient Representative, Dr Agnes Ayton, Oxford Health, Clare Moran, Berkshire Healthcare, Dr Ali Ibrahim, Oxford Health, Ellen Tutisani, Oxford Health.
Clare Moran, Berkshire Healthcare, and Andrea Shand, Oxford Health with the award.
Find out more
Visit our Eating Disorder (BEDS) service webpage (opens new browser tab)