Eight Bells for Mental Health - surviving the pandemic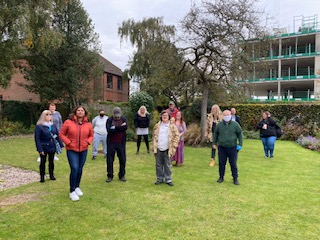 Eight Bells is a well established, member-led charity for people from West Berkshire whose lives are affected by mental health issues. It also trains volunteers to help vulnerable people across rural West Berkshire as part of their new service, Community Strength. 
Ray Fox, the chair, and Verity Murricane, co-chair of trustees for Eight Bells charity, are also elected governors here at Berkshire Healthcare. 
Verity describes how Eight Bells has coped with the pandemic: 
"Before March our service regularly attracted fifty people to our drop-ins three times a week. Our workers, volunteers and peer mentors supported people at tribunals and face to face meetings.  
"When the first lockdown was announced, everything changed. Our drop-in service closed and we had to adapt to support existing and new members. Lockdown meant complete isolation for some, for others, it meant family strains. Some had financial difficulties, and our income dropped too. 
"The rules meant supporting people remotely on the phone or video calls, a temporary solution to replace physical meeting. Most members relied on a smartphone, with expensive, pay as you go tariffs. And many found it difficult to adjust to using digital technology. Health care, local authorities and service organisations increasingly use remote interviews and online forms. Members will find themselves digitally excluded unless we and other service providers can give more support.
"After lockdown, we could open for one day a week, with a comprehensive health and safety regimen. This gave a precious feeling of normality for our members. 
"Now, in the second lockdown, we are limited to 16 people at a time. We have to allocate slots and can no longer cook and share a meal. Our nature project and other activities are on hold, but we have continued to recruit volunteers for our new Community Strength service.  
"One thing is certain, we will carry on working to support everyone who needs us." 
Find out more
You can find guides and videos to boosting your mental health, on our website