Face masks and social distancing will remain in place in our hospitals from 19 July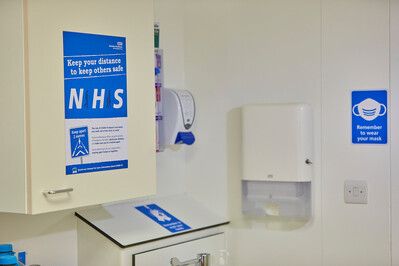 Although 'Freedom day' is going ahead on Monday 19 July, it's important to continue to follow infection prevention control (IPC) guidance in healthcare settings.
Ruth May, Chief Nursing Officer for England said: "Face coverings and social distancing measures will remain in place across healthcare settings so that the most vulnerable people can continue to safely attend hospitals, their GP surgery, pharmacy or any other healthcare settings for advice, care and treatments."
For everyone's safety, staff, patients, and visitors must:
Wear a mask at all times (unless exempt)
Maintain two-metre social distancing
Follow the instructions on the posters and stickers around our wards
Observe our visiting rules
Use sanitiser / wash your hands for at least 20 seconds
Visit the NHS website for a guide on how to wash your hands properly (opens a new browser tab)
Sara Gorton, UNISON Head of Health said: "Although restrictions are easing, NHS staff are under pressure trying to clear the long waitlists that have built up during the pandemic. It's vital that staff know they will be kept safe and the public is clear that measures like social distancing and mask-wearing will still be needed to stop the spread in healthcare settings."
To keep our staff and patients safe, please continue to follow our visiting guidance by adhering to social distancing, wearing a face mask and following hand hygiene guidance.