First NHS trust to host 'Suicide The Ripple Effect'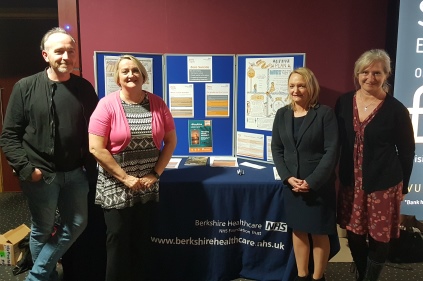 On Wednesday 25 April, we became the first Trust to host 'Suicide the Ripple Effect' at Camberley, Vue. Jason Wear, one of our Senior Mental Health Practitioners, coordinated with FanForce in order to make this screening possible. With 98% of the available tickets sold, we had a successful turnout of both staff and members of the public. We'll be donating a percentage of the money from the ticket sales back into a selected charity that helps with suicide prevention.
What's it about?
The documentary explores Kevin Hines journey and experiences with suicide. It shows how the ripple effects of suicide on those left behind can be used to help others and make a positive impact.
A member of the audience commented, "It opened my eyes to the views of suicidal patients. The documentary was an emotional roller coaster from heart wrenching to heart-warming, to inspirational and hopeful. Thank you to Berkshire Healthcare for organising".
Further suicide prevention support can be found on the Grassroots Suicide Prevention website (ASSIST) or by visiting our Zero Suicide section.