From our neuro rehabilitation ward to running a triathlon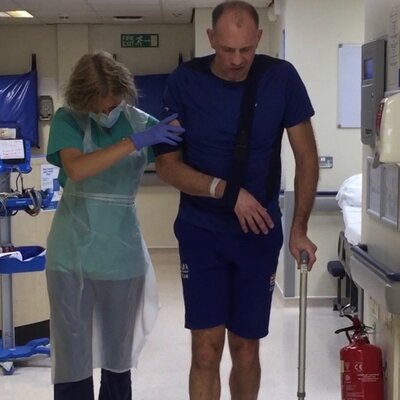 Last October one of our patients, Gavin McLaughlin, suffered a stroke. He spent four days at the Royal Berkshire Hospital before being transferred to our neuro rehabilitation team at West Berkshire Community Hospital (WBCH). In July, Gavin achieved his goal of completing a triathlon. 
We spoke to him and two of our team leads, Jackie Thompson and Ruth Aitken, about the experience. 
There are eight beds for neuro rehabilitation patients at WBCH and most patients come to stay for up to six weeks, often following a stroke. Ruth and Jackie told us that they're a multi-disciplinary team made up of Physiotherapists, Occupational Therapists, Therapy Assistants, Speech Therapists, Neuropsychologists, and the Nursing Teams. It's this holistic approach that leads to successful outcomes for our patients. 
At WBCH, Gavin had a six-week intensive rehabilitation programme to help him on the road to recovery. Gavin said, "It was a gradual process of recovery but the support I had from the team was amazing. Repetition is a big part of stroke recovery but luckily I was used to doing something boring for a long time in my previous training." 
Jackie and Ruth worked with Gavin during his stay. Each patient is different and has different goals; for some it's just to go to the toilet on their own, but as a triathlete, Gavin wanted to get back to running swimming and cycling. With his training background he was used to working to short-term goals to get to the long-term goal which really helped with his recovery. 
When Jackie heard Gavin had successfully completed his goal she said "I was so pleased for him because he set the goal to finish it, but he also beat his time. Having seen what he's been through to be able to do the triathlon was amazing." 
Gavin said "I was confident I could finish the race, but I wasn't sure if I would be able to do it all in one go.
"I still have mobility issues but once I managed to catch up with some swimmers, my mindset switched from just finishing the race to competing.
Crossing the line was quite emotional the medics came and checked on me asking if I was okay."
Find out more
Neuropsychology service
Our Neuropsychology service provides mental health assessments and support for people living with the effects of a brain injury, such as poor memory, and difficulty concentrating and communicating.
Find out more about our Neuropsychology service
Work for us
Working in healthcare is more than just a job, it's a passion. And every member of our trust is committed to providing the very best care possible in order to transform the lives of our patients.