From proactive mental health nursing to Rapid Response and Treatment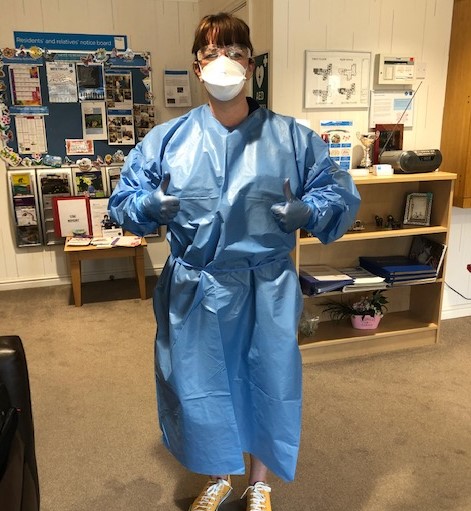 Only a month prior to the lockdown, Jenny Hall, a specialist mental health nurse (RMN) in the 'proactive' branch of our Newbury Integrated Care Home Service (ICHS), completed a physical assessment course to become a prescriber alongside her usual duties. It would turn out that the timing couldn't have been better and, as the lockdown started, she volunteered to put her newly gained theory into practice by moving to the 'reactive' branch of the ICHS – the Rapid Response and Treatment (RRaT) team.
"I was frustrated, sitting at home," Jenny commented on the situation, "And I've always wanted to make the move to general nursing."
Jenny has been working in the Integrated Care Home Service (ICHS) since 2013. Before COVID-19, her role involved educating and upskilling staff in older people care homes so that they can better manage the behaviour of residents with dementia and support those that may be at risk or suffering from depression and other mental health problems.
"It was like walking across quicksand," Jenny said about making the swap from mental health nursing to the RRaT team, "It was an absolutely massive, steep learning curve, but I have a very supportive team. If I'm thrown a curveball, then I can call them."
To start with, Jenny shadowed team members, before working independently and she's now only accompanied for more complex visits. New components of her role include advanced care planning, end of life care and difficult conversations about 'do not resuscitate' (DNR) orders.
"Jenny has been amazing in our team over the past eight weeks," said Mandy Waldon, clinical lead in the RRaT service, "Her move from the proactive element of the ICHS to work closely with the RRaTs has allowed us to cope with the increase in referrals to our service."
Jenny commented, "It's been brilliant for experience and I've gained a wealth of skills. I love the style of learning, but it would've been better without a pandemic!
"When I return to my usual role, I'll have more consideration of general wellbeing, rather than just mental health."
Life on the front line
It's a difficult time for everyone, and we're incredibly proud of how our teams and local communities are meeting the coronavirus challenge. We're sharing more good news stories and experiences from those working on the front line. 
Read about life on the front line 
How you can help 
You can help us in the fight against COVID-19 by donating to our Just Giving Page, or by dropping off supplies. 
NHS services up and down the country are being stretched to their limits and we need your help – you can do your part by signing up to the NHS Bank and working with us to fight COVID-19.