Going back to the frontline to support patients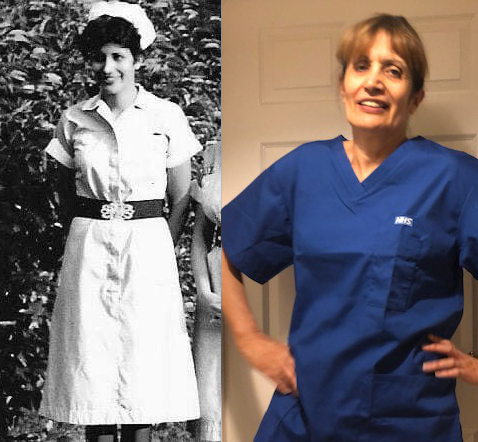 Ginny Garnett, our Head of Community Children's Services, explains why she's back in uniform to help our teams in the fight against COVID-19. 
Ginny says: "I was last on a traditional type of ward in 1982, and though much has changed, what I've discovered is that the principles of caring for other human beings have not. We need to first listen and understand our patients' needs and deliver care that respects their wishes and dignity in line with best practice. 
"So, Thursday 2 April was my first day back in the frontline for almost 40 years. My uniform fitted, and my old fob watch was still ticking! I've found staff to be so grateful for the help. They welcomed me with a cup of tea and tour of the ward and I have been assigned a mentor to support and guide me through.
"Nurses all have a core set of skills that can be used in the ward environment, especially showing compassion to patients and our colleagues."
How you can help 
You can help us in the fight against COVID-19 by donating to our Just Giving Page, or by dropping off snacks and toiletries. 
NHS services up and down the country are being stretched to their limits and we need your help – you can do your part by signing up to the NHS Bank and working with us to fight COVID-19.
Life on the front line
It's a difficult time for everyone, and we're incredibly proud of how our teams and local communities are meeting the coronavirus challenge. We're sharing more good news stories and experiences from those working on the front line.