Innovating older people's services to work amid COVID-19 - and beyond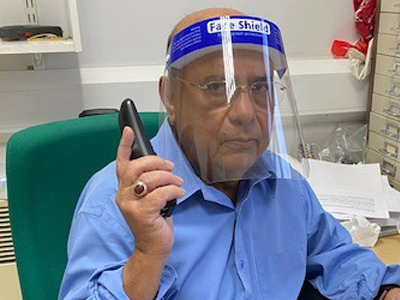 Dr Biru Jha is an associate specialist at Upton Hospital and leads the Assessment and Rehabilitation Centre (ARC), a specialist outpatient service for older people, which he started working at 36 years ago (when it was known as the 'day hospital').
Dr Jha's deep-rooted desire to improve care for older people has led to him attending, speaking and presenting at conferences in Sri Lanka, Johannesburg, Brazil and Jakarta about various topics concerning the health of older people, including falls, postural hypotension, frailty and polypharmacy (use of a large number of medications by a patient).
How did the ARC work before the COVID-19 pandemic?
Patients would attend for a day for a comprehensive assessment tailored for their age with a doctor, physiotherapist and nurses, after which ongoing care would be arranged with their GP. We can make investigations almost just like a general hospital. Patients may be referred to the service as a result of a visit from paramedics or a district nurse (for example, due to a fall), or by their GP, an accident and emergency doctor, or a consultant following a stay in hospital.
What changed when COVID-19 hit?
Many services had to be suspended because we needed to minimise the amount of people coming into the hospitals. However, I strongly believe that there is no such as 'nothing can be done', so I haven't allowed the coronavirus situation to get in the way of diagnosing and treating my patients. Rather than having patients come to the hospital, I speak to them on the phone for around 30 to 45 minutes to assess what problems they're having.
After this, nurses and physiotherapists attend the patient in their home, sometimes with a live video link so I can see any visible issues, such as how they're walking, speaking or holding things, for myself. I still work from the hospital so that I'm more approachable to any colleague who wants to raise concerns or ask a question relating to a patient's health.
At every stage, we keep the patient's GP updated, but I also stay in touch with each patient over the phone as much as possible.
How have patients responded to the changes?
Patients thought that, when COVID-19 hit, their care was totally suspended, but they're pleased it's still going on. Older people suffer most from not being able to see their GPs face-to-face, and they don't want to go to hospital.
Talking to the nurses and physiotherapists who visit them can reveal previously undiagnosed problems and that nurse or physiotherapist can contact me there and then or find me at the hospital to discuss it further.
Many of my patients are not keen on what they see as 'interference' which could mean a stay in hospital or losing their independence. Having the assessments in their own home can make them feel more secure. Some patients were obviously concerned about the risk of infection from having someone come into their home, but I reassure them by explaining the protective measures that are taken by all our community services.
Has there been any unexpected benefits to this new way of working?
We've actually developed a faster way of working. Physiotherapists and nurses go to the patient as soon as possible, instead of the patient waiting for weeks to get a hospital appointment. Without the help of the physiotherapists, nurses, rehabilitation teams and all the rest, I'd be insignificant. Their support has been paramount in ensuring I could keep the service running during this time.
Life on the front line
It's a difficult time for everyone, and we're incredibly proud of how our teams and local communities are meeting the coronavirus challenge. We're sharing more good news stories and experiences from those working on the front line.