International Nurses Day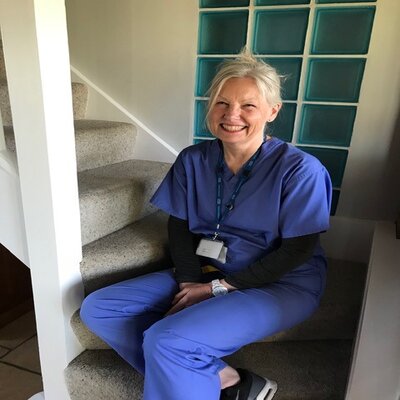 12 May is International Nurses Day and we are recognising it by sharing the story of Anne Aston, our Memory Clinic Lead, who is celebrating 40 years in nursing.
Anne Aston, our Memory Clinic Lead, began her nurse training on the 27 April 1981 at West Glamorgan School of Nursing. As a first-year student, her first ward placement was in an elderly care ward at Mount Pleasant Hospital, Swansea (formally the old workhouse), which closed in 1995. She went on to train as a mental health nurse in 1986.
Like many people who work for the NHS, Anne comes from a family of healthcare professionals. Her father was a dentist and her brother is a retired mental health nurse. As a child, she would sometimes go with her father when he was called out to work at the local psychiatric hospital.
Over the last 40 years, Anne has seen huge change in elderly care. She says: "The first ward placement that I ever did was in an elderly care ward and the conditions were very different to today's standards. It was in an old workhouse, everyone did the best that they could for the patients, but it was a poor environment and there was a lack of individual patient care. We didn't have the modern approaches that we have now and dementia wasn't understood then, it was just thought to be a senile disease. There weren't any activities for patients - it was a very different environment from what we have today.
"The closing of the long stay psychiatric wards has meant that people can be integrated into the community, which is so much better for them. The whole approach to dementia is much more person-centred and allows people to remain at home much longer. We have treatments now to help patients and hopefully slow down the progression of the illness."
 Anne is celebrating this special anniversary by catching up with colleagues that she trained with. She hopes they can meet up later in the year, once COVID-19 restrictions allow.
Find out more
Working in healthcare is more than just a job, it's a passion. And every member of our trust is committed to providing the very best care possible in order to transform the lives of our patients.
Find out what it's like to work for us