Keep cool and safe this summer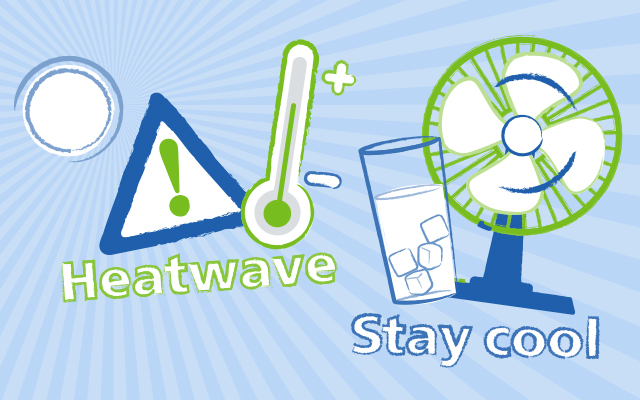 While many of us will be looking forward to getting out in the sunnier and warmer weather, it's important to look after yourself and others, and also keep an eye on guidelines as part of the COVID-19 lockdown.
Public Health England (PHE) have a guide on how to stay safe and protected as it starts to get warmer outside.
The key bits to remember are:
Stay Cool at Home – you can keep cool while isolating by staying in the shade and opening windows to let cool air in
Wear comfortable clothes – lighter fabrics can help you keep cool
Drink plenty of fluids and stay hydrated – water, lower fat milks and tea and coffee are good options
Take your time – if you do need to go out or do something around the house, give yourself plenty of time and don't rush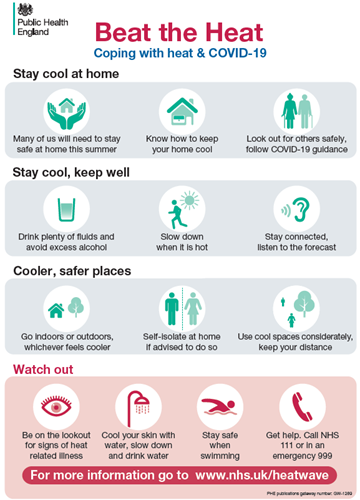 The guide also has more information if you're caring for a vulnerable person during the COVID-19 lockdown, or you're concerned for someone who may be at-risk.
Read PHE's full Beat the Heat: Coping with heat and COVID-19 guide
You can also find more advice on staying well during a heatwave from the NHS website.
Read NHS advice on staying healthy during a heatwave
Visit the gov.uk website for the latest advice and guidelines on coronavirus and social distancing.
Read the government's advice and guidance on COVID-19
Looking after small children
Visit our child safety pages on our CYPF website for advice on making sure infants and young children are safe in the hot weather
Visit our child safety page for more advice
I need help now
If a person has improved with the cooling advice above but you're still concerned, contact NHS 111 for advice.
Call 999 for an ambulance if:
The person doesn't respond to the above cooling treatments within 30 minutes
The person has severe symptoms, such as a loss of consciousness, confusion or seizures