LGBT+ History Month 2022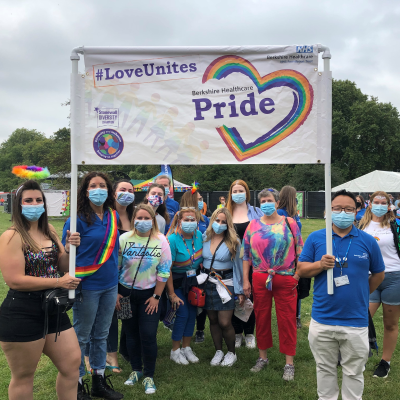 LGBT+ History Month celebrates the achievements of LGBT+ people and seeks to combat prejudice by raising awareness and education.
Evidence shows that LGBT+ people frequently avoid healthcare because of concerns they will be discriminated against. We're also aware that LGBT+ people have poorer experiences of healthcare.
Tackling this inequality is a top priority for us. Here are some of the things we're doing to improving the experiences of LGBT+ people who use our services:
We're developing our systems to be able to record sexual orientation and gender identity more accurately
We've invited Dr Jamie Willo to run some LGBTQ+ identity training for our staff
We're encouraging colleagues share their pronouns to create safe spaces for each other and our patients
We've Partnered with the Under the Brolly podcast to provide information around our Talking Therapies and sexual health services
Listen to Under the Brolly podcase on Spotify (opens new browser tab)
Visit our Talking Therapies website (opens new browser tab)
Visit our Sexual Health service webpage (opens new browser tab)
We're taking part in the Rainbow Badges pilot and developing a clear action plan around LGBTQ+ inclusion in healthcare
Read about Rainbow Badges on the Stonewall website (opens new browser tab)
We've partnered with Support U to review our Trans inclusion guidance to ensure it is inclusive of the whole community
Visit the Support U website (opens new browser tab)
We hosted the Pride In U- health stand at Reading Pride in September 2021, providing health checks, sexual health advise, talking therapies and recruitment information to the community
Visit the Reading Pride website (opens new browser tab)
We welcome any other feedback around how we can further improve LGBTQ inclusion.
We're committed to ensuring that no one receives less favourable treatment or discrimination on the grounds of their age, disability, if they are transitioning at work, marriage and civil partnership, pregnancy and maternity, race, religion or belief, gender, sexual orientation, gender identity or gender expression.
We take a zero-tolerance approach within all of our services. 
Find out more
Read our Equality, Diversity and Inclusion Strategy 2021 – 2024 (pdf) (opens new browser tab)
Find out more about our Pride network (opens new browser tab)