LGBT+ History Month: An interview with Megan Rodriguez, Chair of the Pride Network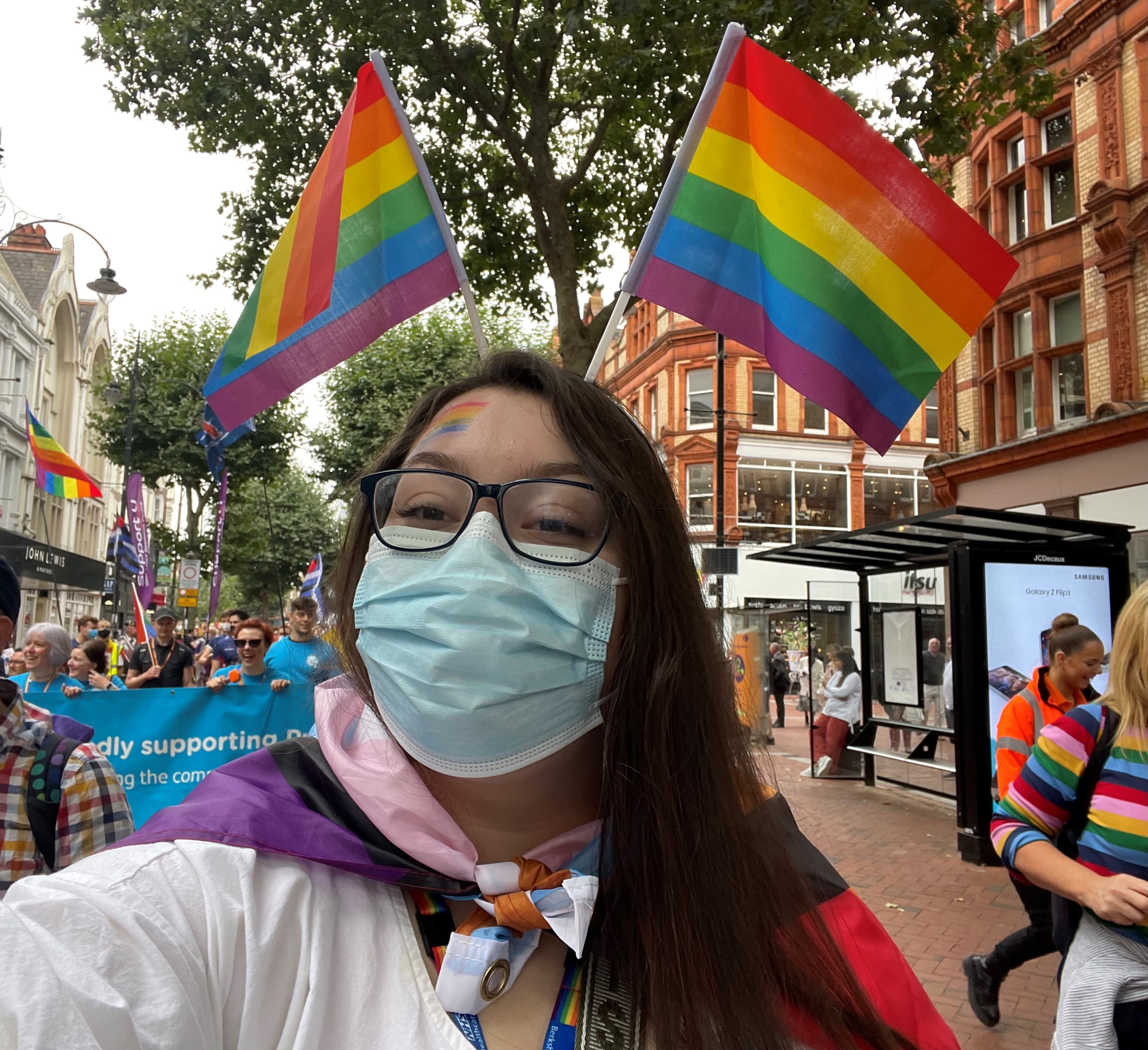 Celebrated every February, LGBT+ History Month provides an opportunity to reflect on the history of LGBT+ rights and related civil rights movements.
In this interview, Megan Rodriguez, Chair of our Pride Network and team Administrator for Windsor, Ascot and Maidenhead Community Mental Health Team, talks about what LGBT+ History Month means to her, LGBT+ inclusion at work, and how to be a straight ally.
Can you explain to us what LGBT+ History Month means to you personally, and why it's important?
To me, LGBT+ history month relate to the achievements and key events that have shaped society and the community today. It's important as it shows the challenges the LGBT+ community have overcome to gain rights, acceptance, and a voice.
What is the difference between LGBT+ History Month and Pride Month?
Both are very important to the community; LGBT history month is the observance of LGBT+ history. Pride month is to specifically commemorate the Stonewall riots, which led to the continued celebration, culture, and support of LGBT+ rights.
LGBT+ History Month provides us all with a chance to learn about LGBT+ History and better understand some of the issues still faced by the LGBT+ community today. Are you able to offer suggestions to anyone who keen to educate themselves?
There are a wide range of resources you can find online such as the Stonewall or Mind website to gain a better understanding of the LGBT+ community and the issues they face/have faced. There are also some great films, documentaries, and books that represent these issues.
It's reported that more than one third of LGBT+ employees across the UK have hidden the fact they are LGBT+ at work. Why do you think this is?
I think it is due to the fear of discrimination. Although the LGBT+ community and equal rights are better than they used to be 100 years ago, things are still not great. One in five LGBT employees have been a target for negative comments, one in eight trans people have been physically attacked and one in ten BAME employees have also been attacked because of their sexual orientation/gender identity compared to three percent of white LGBT employees. These are just a few examples of data, so isn't surprising why LGBT+ employees might hide this.
What top 3 tips would you give to someone who wants to be straight ally to LGBT+ colleagues?
If you see or hear something, say something.
Ask for help if you are unsure and don't be afraid of saying the wrong thing. (To better your understanding)
Don't assume anyone's pronouns, relationship partners or sexual orientation.
And finally, what advice would you give to LGBT+ colleagues to help them look after their wellbeing?
LGBT+ people are more likely to develop mental health issues, so it is important to know that it is okay not to be okay. Everyone deserves support and respect, whoever you are or love and have legal rights to get support or help. To look after your well-being, reach out for help to a trustworthy friend, family member, doctor or LGBT+ mental health service.
Here are some websites that may be helpful if you need some support:
LGBT Health and Wellbeing (opens new browser tab)
Mind - Useful contacts (opens new browser tab)
MindOut - Mental Health Charity (opens new browser tab)
NHS UK - Mental health support if you're lesbian, gay, bisexual or trans (LGBTQ+) (opens new browser tab) 
Find out more
Find out more about our Pride network (opens new browser tab)
Find out more about support to manage your mental health (opens new browser tab)