Liaison and Diversion win big at penal reform awards 2022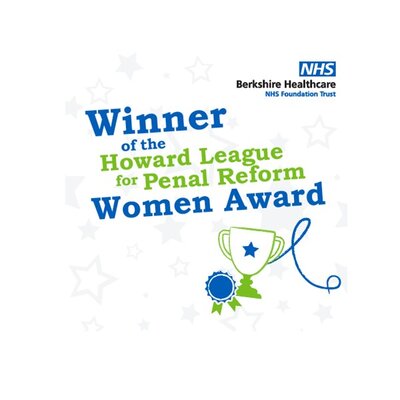 The Liaison and Diversion service's work to divert vulnerable women away from the criminal justice system has received an award by leading penal reform charity, The Howard League. 
Berkshire Healthcare's Liaison and Diversion service were named winners for Enrich, a partnership project with Thames Valley Police and Alana House, a Reading-based women's centre run by the charity Parents And Children Together (PACT).
Enrich diverts vulnerable women in custody away from court or prison. It mirrors the aims of the government's female offender strategy, providing social, health, economic and financial benefits. At its heart it looks to decriminalise women in custody who are often themselves victims of crime, abuse or trauma.
How Enrich works
Using a mix of referrals, targeted support and out of court disposal orders, women are assessed and given the opportunity to reduce their chances of going to prison or returning to custody by engaging with the project. 
Any woman arrested in Berkshire is offered an automatic referral to the Liaison and Diversion service, with or without an identified vulnerability. The team's gender sensitive, trauma-informed approach to screening addresses attitudes, thinking and behaviour, as well as health and social vulnerabilities. Assessments include asking gender specific health questions around menopause, pregnancy or recent birth.
Every woman who has engaged with Enrich has seen improvements or sustained progress in all areas. Based on the nine pathways to reduce offending, as outlined in the 2006 Corston report, the biggest improvements were seen in in finances (debt and benefits), accommodation, physical health and a reduction in domestic violence/abuse.
Comments  
Kishan Waas, Head of Health and Justice at Berkshire Healthcare NHS Foundation Trust, said: "There is a huge disparity between men and women in the criminal justice system. Despite committing less serious offences than men, Women are treated more harshly and suffer worse outcomes.
"When Enrich started in December 2020, we wanted to decriminalise women who found themselves in custody because of a health vulnerability or were themselves victims of trauma or abuse. As we're based in custody and court, Liaison and Diversion was perfectly positioned to be the conduit between the police and Alana House, as well as an advocate for vulnerable women who need help not punishment.
"While there has been excellent work in Berkshire, Enrich is not available across Thames Valley area. Investment in projects like Enrich is crucial to improve outcomes for women in contact with criminal justice system.
"This award is testament to the hard work of all involved with Enrich, but the real winners are the women we have helped through the Enrich project."
Kathryn Warner, Alana House PACT's Head of Communities said: "I am thrilled that this crucial work diverting women away from the criminal justice system to trauma informed support provided by Alana House has been recognised with this award.
"We hope this endorsement will strengthen our ability to secure funding to enable this vital work in Berkshire to continue."
Detective Superintendent Craig Kirby, head of criminal justice at Thames Valley Police (TVP) said: Custody cares for some of the most challenging and vulnerable people in society at the most critical of times. A significant proportion of those arrested have underlying vulnerabilities that are driving their criminality, including drug addiction, alcohol misuse, neuro-disability, mental illness and homelessness. We now also recognise the prevalence of exploitation as an underlying driver to criminality.
"Recognising this, TVP have established the Custody 2025 programme of change. This aims to bring a problem solving, public health, partnership approach to police custody to reduce reoffending and better manage risk through the early identification of vulnerabilities, which are driving criminality, and the delivery of timely interventions aimed at addressing these.
"Enrich is a critical element of this work as it has brought this approach to some of our most vulnerable female offenders, working tirelessly to reduce their risk of reoffending and supporting them to build a better life."
Find out more
If you've been arrested, are due in court, or know someone who is leaving a Thames Valley or Hampshire prison visit our Liaison and Diversion service page for details of the full range of NHS services on offer to vulnerable people.
Visit our Liaison and Diversion service page
The Howard League
The Howard League for Penal Reform is the oldest penal reform charity in the UK. It was established in 1866 and is named after John Howard, one of the first prison reformers.
Visit The Howard League website (opens new browser tab)