Lumbini's story - Celebrating women at Berkshire Healthcare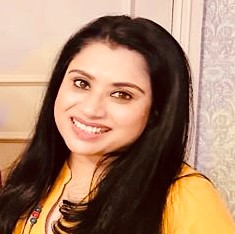 International Women's Day (8 March) is a valuable opportunity to champion gender equality in the workplace and celebrate the fantastic achievements of the women (and trans women) we work with. This year's theme is 'Embrace Equity' which calls for all of us to challenge gender stereotypes, call out discrimination, draw attention to bias, and seek out inclusion.
We spoke to five inspirational women from a range of different roles across our Trust, to find out about their career journeys and achievements. Lumbini Vithana is an Associate Clinical Educator.
You can read Lumbini's story below, and others on our website.
Read about the other stories for International Women's Day 2023
Can you tell us a little bit about your career to date?
I started my career as a volunteer in Berkshire Healthcare, then became a Deputy Ward Manager for the older adults' inpatient assessment unit at Prospect Park Hospital, Reading. I have been working with this client group for almost a decade and currently I am working with the Learning and Development team as a Clinical Educator.
I am an effective lead mentor and am passionate about supporting people in their personal development. I show this by helping them to reach their potential through a deeper understanding of themselves, and the impact they have on others. As I have successfully completed the Professional Nursing Advocate (PNA) course in 2022, I was able to introduce and implement restorative supervision sessions for staff and students during the pandemic period.
Currently I am a BAME Lead for Prospect Park Hospital and have been in the Race Equality Network (formerly the BAME committee) since 2017. The network aims to improve the working lives and career development opportunities for our Black, Asian and Minority Ethnic staff. As a part of my role, I was involved with fair recruitment and selection processes, promoting career development and progression, providing training and development opportunities, working to eliminate harassment and bullying, and making sure that the work environment is free from abuse. I was involved in workshops and conferences, as well as organising events in the Trust celebrating Black History Month, diversity day, and more.
I was also a mentor for the 'Making it Right' programme, which was started in 2017, by the Trust to address gaps in the workplace between our Black, Asian and Minority Ethnic (BAME) staff and non-BAME staff, with regards to equality of opportunity and career development.
Outside of work, I was awarded the gold award for leadership, dedication, and achievement from the University of West London, in 2012, for my voluntary service as a teacher in my community. Volunteering England's Gold Award is the only national student volunteering award that recognises achievement, dedication, and leadership within further and higher education, and it is a prestigious mark of excellence in student volunteering.
What do you enjoy most about working for the NHS?
The NHS is a great place to work. Regardless of our job title, we are bound to experience plenty of highs and lows as NHS workers. It is important to remember that we carry out life-saving operations, whilst supporting injured and sick people. I am passionate about quality patient care and, despite the many challenges it faces, we change people's lives daily and I am so proud to be a part of the NHS.
As an NHS worker, I have become a stronger person who can handle high-pressure situations. Through my job role and experience, I developed my conversational skills, confidence, self-knowledge, resilience, determination, and so much more. The NHS provides excellent training and support for employees to develop unique skills. You learn things that you probably never thought you could do.
What roles do women have in the NHS?
Women make up 75 percent of all NHS staff from clinicians to porters to admin roles and senior levels. The NHS is one of the largest employers of women in the world and continues to support females from all backgrounds to fulfil a career within the healthcare sector.
Stereotypically technology, construction, estate management and a wide range of STEM roles are predominantly male dominated. The NHS is keen to break the bias on these types of jobs and encourage even more women to consider roles within these areas.
After the most challenging years in the history of the health service, the NHS is celebrating the vital role that hundreds of thousands of women have played in the pandemic effort across the NHS. With more than three quarters of the 1.3 million members of NHS staff made up of women, they have been at the forefront of the fight against COVID and played a leading part in the roll out of the largest vaccination programme in the health service history. Between scientific and therapeutic personnel, management and clinical support teams, and the 300,000 nurses and health visitors to ambulance staff, women have been instrumental in continuing to give the highest quality of care. 
What support is there for women at Berkshire Healthcare?
There's growing awareness of the huge impact menopause has on people's lives. Most women, trans men, and many non-binary people experience symptoms at some stage. It can affect their wellbeing, physical and mental health, families and working life.  As you go through menopause, you may find that you have more difficulties than usual, or that the symptoms you experienced before get slightly worse. The Trust introduced the Peppy Menopause App for its staff, and also has the Wellbeing Matters website which supports staff mental health and wellbeing.
How important is gender equality?
Gender equality is at the very heart of human rights and United Nations values. Equality and non-discrimination are fundamental principles of the United Nations Charter, adopted by world leaders in 1945.
Yet millions of women and LGBTIA+ persons around the world continue to experience discrimination in the enjoyment of civil, cultural, economic, political and social rights.
Moreover, many women, including transgender, gender diverse and intersex women, face compounded forms of discrimination—due to factors such as their age, race, ethnicity, disability, or socio-economic status—in addition to gender-based discrimination.
How can men support women as allies?
Allyship is important in making sure that everyone is not only invited to the table but is also heard, acknowledged, and recognised for their contributions. Below are some suggestions for how to be an ally to women, and how to create a broader workplace culture that welcomes allyship.
Be visible
Share opportunities
Publicly celebrate accomplishments
Share the non-promotable workload
Go to the source - ask women, nonbinary people, people of colour, and other less dominant groups how you can help
Speak up and 'call in' other people if you see them abusing their power with others
Be mindful of the way you communicate
Be open to feedback
Have a courage to be wrong
Listen, respect the space
Get comfortable being uncomfortable
Find out more
Work for us
We welcome people who share our values to come and work for us