Nicole is helping us help you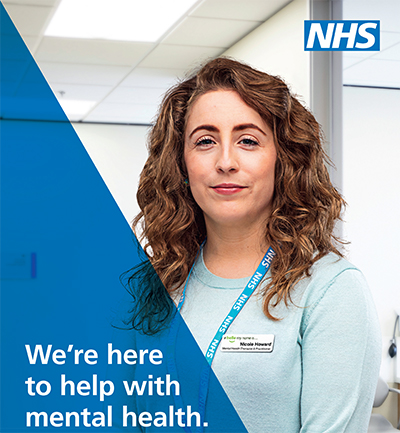 Nicole Howard, one of our cognitive behavioural therapists for Talking Therapies, has been chosen to be part of not just one, but two national NHS campaigns promoting mental health services.
This year's NHS campaign, "Help us Help you – Get Support", is about encouraging people to continue contacting their GP, mental health or urgent care services when they're in need.  And, for World Mental Health Day 2020, we and Nicole want to remind you that our Talking Therapies service is still running as normal.
In Talking Therapies, Nicole uses her 13 years of experience to support people with their mental health, helping them to tackle anxiety, depression, and stress on a daily basis.  Talking about her role, Nicole says: "I love my job, getting to support colleagues and seeing improvements in patients." 
Due to COVID-19, Nicole has had to work over the telephone and using video consultations to keep up her work with long term patients as well as newer referrals, including the public, carers, nurses and even doctors - everybody needs a little help sometimes.
Last year, Nicole decided to do her part in promoting these valuable mental health services and applied to be a part of the NHS campaign 'Help us Help you – Get the Right Care'. And because of her knowledge and dedication to mental health - Nicole has even set up a blog to share tips on mental health and wellbeing with her friends and family - she was selected and even asked to come back for a second year.
This World Mental Health Day provides an opportunity for us all to remember how important it is to take care of our mental health and seek support when we need it.
So please take Nicole's advice and contact our Talking Therapies team for help if you're coping with challenges like depression, stress, anxiety or phobias. 
If you're aged 17 and over and living in Berkshire you can self-refer on the Talking Therapies website to start your online treatment straight away and find other online self-help resources.