OT Week 2019: Q&A with a care home occupational therapist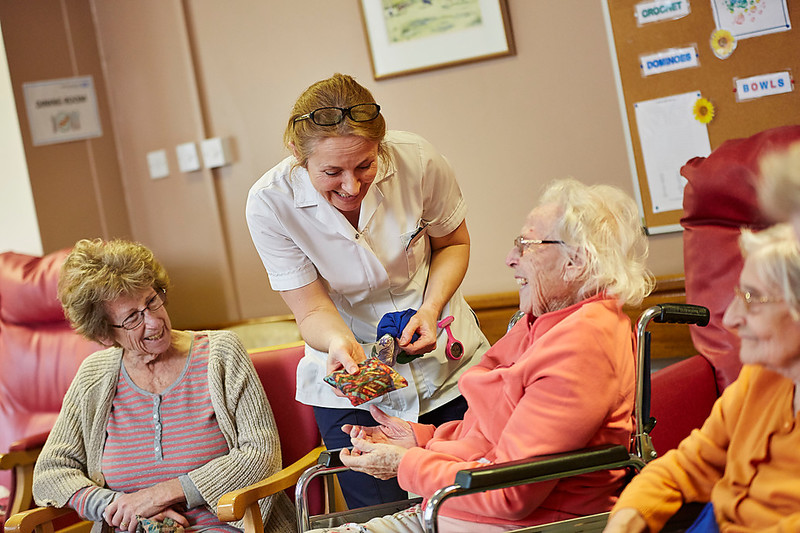 For Occupational Therapy Week 2019, we're sharing stories and advice from our staff and teams across Berkshire. This year's theme is Small Change, Big Impact.
Occupational Therapists play a big role in helping our patients who might find everyday activities difficult because of an illness, their age, or if they're living with a mental health condition.
Becky Thomas is a Senior Specialist Occupational Therapist in West Berkshire's Integrated Care Home Service team. She talks about what her job involves, and how her team are making a real difference to people living in local care homes. 
What is the Integrated Care Home Service (ICHS)?
The ICHS is a multi-disciplinary team. It brings together consultant geriatricians, advanced nurse practitioners, general nurses, mental health nurses, physiotherapists, speech and language therapists and care home pharmacists, and occupational therapists.
We all work together to help residents in care homes recover health and boost their wellbeing.
How do occupational therapists (OTs) improve the lives of care home residents?
OTs aim to improve the lives of care home residents by supporting them in doing everyday activities. This helps them keep as much of their independence as possible, and reduce the likelihood of developing a preventable injury or illness.
A good recent example involved helping a person with persistent foot ulcers. We provided specialist bed and seat positioning equipment to allow the ulcers to heal. It meant that they could carry on with their favourite hobbies and activities, prevented the need for surgery and improved their overall mental wellbeing
When OTs were first brought into the ICHS team, we also worked with physiotherapists on preventing falls, which is one of the top causes of injury amongst care home residents.
We looked at incident reports, and found different trends and causes. Using this, we made some  slight changes to policies and procedures so that, within a matter of months, the number of falls incidents dropped by as much as 55%.
This not only meant that residents felt safer, but it also drastically reduced the number of emergency ambulance calls. 
That's really impressive! Are you focussing on anything new at the moment?
We're now looking at postural management and reducing incidences of contractures. Contractures are the permanent shortening of a muscle or joint, resulting in loss of movement. They are often happen in patients because of long periods of immobility.
We have seen many care residents that have developed contractures go onto to develop secondary complications, such as pressure damage.
This can make day to day life quite difficult, and often mean they need further specialist support and in some cases hospital admission.
Often, one condition or issue can cause longer term issues, so it's good to try and catch them early. Making a small change today can have significant benefits for people. It's just making sure we act quickly and effectively. 
Why is preventing contractures so important?
A person with a contracture can find it difficult to do even the most basic things for themselves. Activities such as washing, dressing, and eating can feel like a chore, and so it can have a severe effect on both their mental and physical health.
So anything we can do to improve the welfare and general quality of life for people is huge achievement.
How do you help care home residents prevent contracture?
Through making small changes in a resident's environment, guiding care staff in good postural management and providing specialist equipment.
Another example of a small change we've advised to care staff is moving where a resident's TV is placed in a room. This can help prevent their neck contracture worsening, and will hopefully have a big positive impact by reducing pain and improving the resident's movement. 
Find out more
You can find out more about our Occupational Therapy service on our website
Connect with us on Twitter to see how we're celebrating #OTWeek2019
We're always looking for passionate people to come and join our teams.