Our Campion unit achieves QNLD accreditation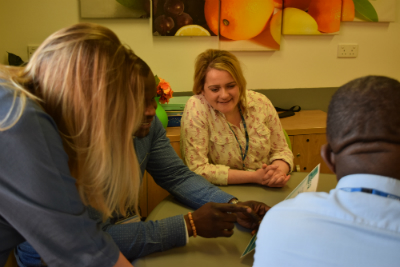 Our inpatient unit for patients with learning disabilities has been accredited by the Royal College of Psychiatrists for delivering a compassionate and caring environment for some of our most vulnerable patients.
Campion Unit, which cares for up to nine adults with complex learning disabilities and mental health needs, achieved 100% compliance in best practice standards of care. The unit is based at Prospect Park Hospital in Reading and takes care of patients from all over Berkshire.
The team worked towards this accreditation for the Quality Network for Inpatient Learning Disability Services (QNLD). This is a standards-based network that facilitates the sharing of good practice and engaging staff and patients. A peer review then took place where high quality care was demonstrated to achieve the accreditation.
Patient engagement is a key part of the accreditation process which includes looking at the experience of the patients and their carers, and how the team can better meet their needs. The team worked with Peter Wood, whose daughter is a patient on the unit. Peter said: "My daughter has complex needs and the staff here on the unit are great and do so much to encourage, support and look after her. Any challenging needs they just take in their stride and it's admirable to see how they deal with these behaviours. They cope very well and it gives me confidence in the care they provide. My daughter is moving to a new care home soon and I have been impressed by how the staff on Campion has worked with the staff at the new place to make the transition as smooth as possible for my daughter."
Ralph Chananda, Service Manager for the Learning Disability Service said: "We have great clinical leadership on the unit, but all staff were involved, from support workers to our wider multi-disciplinary team to showcase the good work we do with our patients."
A spokesperson for QNLD Project, RCPsych said: "The accreditation committee were greatly impressed with your achievements and would like to share your journey through the accreditation so it can inspire and encourage other services to commit to quality improvement and QNLD project."