Our veterans mark 100 years of remembrance at The Cenotaph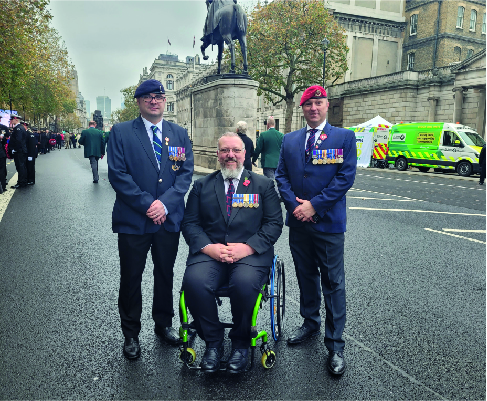 Veterans from our Trust paid their respects in person - and represented the NHS - at the annual Remembrance Sunday service at The Cenotaph for the very first time.
This year also marks the 100th year of remembrance day activities which remember the service and sacrifices of UK armed forces men and women and all who have lost their lives.
Colleagues from our Courage Staff Network, our staff support group for military veterans, reservists and their families, and Op Courage NHS Veterans Mental Health and Wellbeing Service, volunteered to attend the event.
They were: Anthony Colton, Network Chair and Engagement Lead for OpCourage; Anne, who works as a nurse in our Community Heart Failure team; and Jonathan Giemza-Pipe and Ross Dourley, peer support workers from our OpCourage service.
We asked our veterans what it would mean to them to attend the national service this year and this is some of what they told us:
Anthony: "We have that common, unspoken bond"
Anthony Colton, Chair of our Courage Staff Network, explains how remembrance has taken on a new meaning for him this year:
"Since leaving the Army in 2007, I have avoided this time of year where possible. Too many social media images of lost friends, or the thought of shedding a tear in front of people proved too much, so avoidance was the easiest option. However, my memories were always with those who have been lost and their friends and families.
"Today will be the first time my youngest has ever seen her dad taking part in anything remotely military and that is something that is very heartwarming. To see her being proud of her dad and the military is something that will make this a special year, but also knowing that I will be in the company of other veterans from Berkshire Healthcare who understand and have that common, unspoken bond."
Anne: "Remembrance Day is always a special time of year for me"
Anne, a Community Heart Failure Nurse, who served as a nurse in The Royal Navy, also explains how she was grateful for the opportunity:
"With the changes happening in Afghanistan recently this year it has brought many memories back and a mixture of feelings. My thoughts are often with those whose lives changed for ever following service in the Armed Forces.
"Remembrance Day is always a special time of year for me and I wear my poppy with pride alongside my Veterans badge. In my role as a Community Heart Failure Nurse I often meet patients who have served for their country and enjoy sharing our stories. This year I will be at the Cenotaph for the first time with our staff network and I am looking forward to being able to pay my respects in person on the 100th anniversary." 
Pictured above (left-right): Ross, Jon and Anthony on the day.
Find out more
As part of OpCOURAGE, we provide mental health and wellbeing services for veterans in Berkshire, Buckinghamshire, Hampshire, the Isle of Wight and Oxfordshire.
Visit our OpCOURAGE webpage (opens new browser tab)
Read about how we support the armed forces community
Visit our Supporting Veterans' Healthcare webpage (opens new browser tab)