Patients at Wokingham Hospital to benefit from generous donation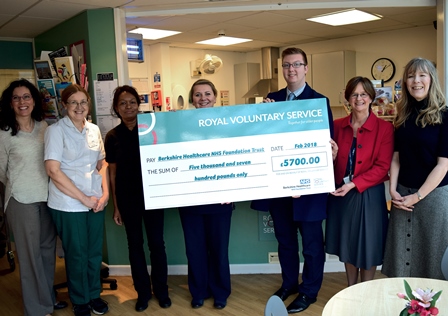 Money raised at the Royal Voluntary Service café at Wokingham Hospital is being put back into our community wards, with patients about to benefit from a range of new equipment.
On 8 February, a cheque was handed over to Helen Mackenzie, our Director of Nursing. Other staff, patients and volunteers joined the Royal Voluntary Service at the hospital to celebrate the donation.
This cash injection will directly help older people on Ascot and Windsor Wards who are recovering from a range of health issues.
The equipment will include new aids to make rising from a sitting position much easier for patients. The new age bowling kit will be used by physios to help improve mobility in a fun way and new iPods and CD players will provide music therapy which is particularly soothing for those with dementia. DVD players will also show old films which patients are no longer able to watch on TV.
The Royal Voluntary Service is a national volunteering charity that helps older people stay active, independent and involved in their communities.
Visit the Royal Voluntary Service website to find out more
They are currently looking for more volunteers to help serve staff, patients and visitors at Wokingham Hospital so if you're interested, please contact them
Email Enquiries@royalvoluntaryservice.org.uk.
Find out more
You can also find more details about services, visiting hours and parking at Wokingham Hospital on our website.