Shortlist for Howard League for Penal Reform award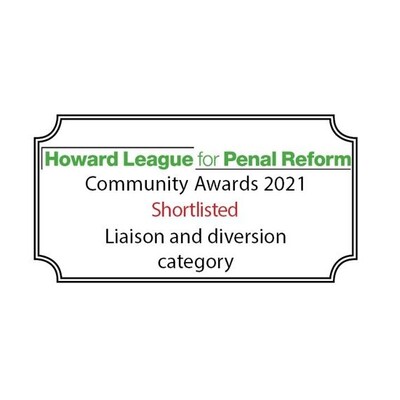 Our Liaison and Diversion team has been shortlisted for a Howard League for Penal Reform award in the liaison and diversion category.
The team works within courts and custody suites across Thames Valley and Hampshire/Isle of Wight provide support to vulnerable children and adults who are making their way through the criminal justice system. They aim to reduce health inequalities and associated offending behaviours by addressing the health and social care needs of their service users.
A multi-disciplined team
The team of allied health professionals, support time and recovery (STR) and peer support workers assist vulnerable adults and children with complex needs who are accused of criminal activity. This includes help to access mental health, learning disabilities, ADHD, autism or trauma support services as they make their way through custody or court.
Using Lived Experience
The team's STRs and peer support workers use their skills and lived experience to assist with linking with local services such as, mental health, substance misuse, homelessness or finance.
Our reaction
Head of Health and Justice at Berkshire Healthcare NHS Foundation Trust, Kishan Waas, said: "We're delighted that our work has been recognised by The Howard League.  
"We strongly believe that people shouldn't be criminalised for their health vulnerabilities. Our work provides decision-makers with a better understanding of an individual's needs and circumstances so appropriate justice is delivered in custody or court."
"I'm really proud of how the service has developed since we began in 2014 and this is down to the hard work of the teams. As well as specialist pathways for women, veterans and youth, we've established some great partnerships with the police, probation and courts which are helping to divert individuals away from the criminal justice arena."
More about the Howard League awards
The Howard League for Penal Reform's annual awards recognise the country's most successful community projects which encourage desistance from crime. Winners must demonstrate projects which help to keep people out of the criminal justice system by providing alternative, proportionate, effective and targeted interventions which help reduce the risk of re-offending. Winners will be announced in October.
Visit the Howard League website to see the full shortlist (opens new browser tab)
The Liaison and Diversion service is open to anyone who is making their way through court or custody prior to discharge, charge or sentencing.
Visit our Liaison and Diversion service webpage (opens new browser tab)