Supporting Diabetes Research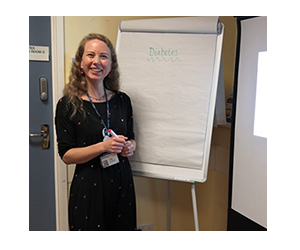 To mark Diabetes Week (14-20 June), Senior Diabetes Specialist Nurse and Research Nurse Cathy Beresford spoke to us about how the pandemic has changed how they carry out research and why she recommends taking part in diabetes research.
"While I've been heavily involved in COVID-19 research and treatment, such as Virus Watch, and training as a vaccinator, our new ways of working mean I've still been able to continue my research into the condition I'm truly passionate about - Diabetes.
"The pandemic has changed the  way we carry out studies. For example, we've started conducting virtual visits to support participants in the StartRight diabetes study, which is investigating new methods for getting the right classification and diabetes treatment at diagnosis, to collect samples effectively." 
Visit the StartRight study website (opens in new browser tab)
"Since December, I've also been recruiting participants to the Address-2 study, a research project exploring the characteristics of people newly diagnosed with type 1 diabetes."  
Visit the Address-2 study website (opens in new browser tab)
"Interestingly, both Address-2 and StartRight studies have enabled the diabetes team to change the diabetes diagnosis (in terms of type 1 or type 2) for a couple of our participants.
This meant that one person was able to discontinue their insulin, and another was able to understand that they need to stay on insulin because they definitely have type 1 diabetes.
"I would encourage all people living with diabetes to take part in research if they can. Research helps to prevent diabetes, find new treatments, improve care and make a huge difference for people living with the condition, now and in the future. It can be a really positive and constructive experience. "
Address-2 and StartRight are still open to new participants.
Visit our Research and Development page to find out more (opens in new browser tab)
Find out more
Read more about our diabetes service on our website (opens in new browser tab)
Find out more about Diabetes Week on the Diabetes UK website