Veterans minister meets our trailblazing mental health team in Reading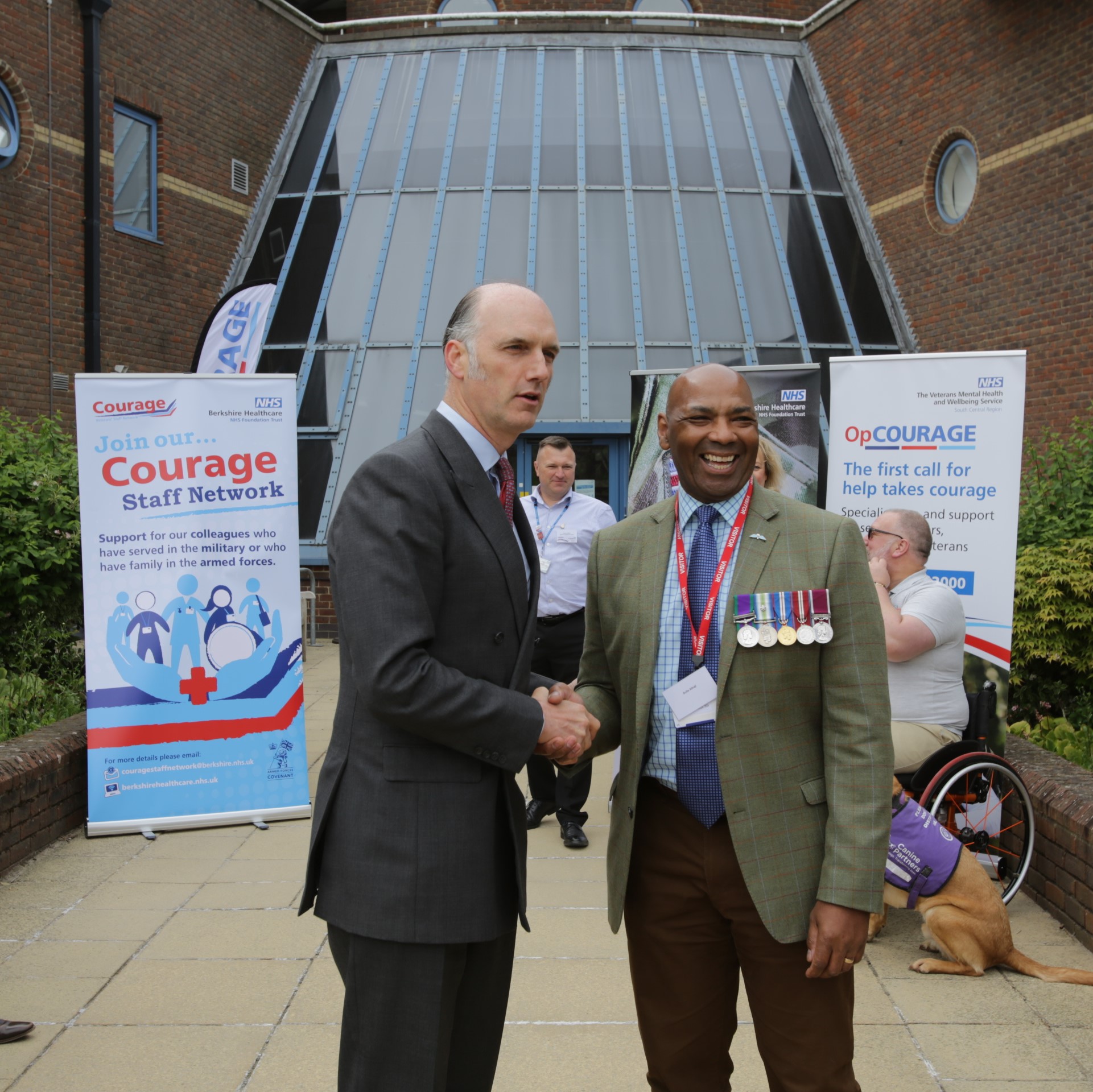 Minister of Defence People and Veterans, Leo Docherty MP, met with military veterans and mental health experts from our Trust to learn more about the vital support we offer.
Minister Docherty, visited them at our newly refurbished OpCourage clinic space on the University of Reading campus on Thursday 28 April 2022.
He learned more from the team about what we do and how we improve people's lives. He also heard their views on what he can do to help more people access specialist support.
OpCourage is a dedicated service designed to help former UK armed forces personnel and reservists access treatment and support from the NHS and third sector partners, including specialist psychological therapy on the NHS for veterans for issues more common to those who have served: such as anger management, addictions and psychological trauma.
The South-Central service is run by us to support veterans across Berkshire, Buckinghamshire, Oxfordshire, Hampshire and the Isle of Wight - including the Minister's Aldershot constituency.
Now in its 10th year, our service was the among the first of its kind to be rolled-out across England – and supports around 400 veterans a year.
Minister for Defence People and Veterans Leo Docherty said:
"It was great to meet with OpCourage service users and staff in Reading, to find out more about how this bespoke support for veterans has benefitted members of the armed forces community.
"I encourage veterans who may be struggling to reach out to their GP to access the dedicated health and wellbeing support available."
Dr Deborah Lee, Clinical Lead for the South Central OpCourage service, and an expert in compassionate care and psychological trauma, said:
"What's different about what we do is that we co-create our service with our peer support workers - who are veterans and have accessed support themselves - and with the wider armed forces community.
"This helps us make sure that we really understand military life and put the veteran and their family at the heart of everything we do.
"We understand that it can be difficult to adjust to civilian life and that when you've been trained not to fail it takes such courage to ask for help. Those that do make that first step are met by clinicians and peer support workers who are dedicated to enabling you to get back to enjoying life again."
The services' integration of peer support and compassion focussed care have been hailed by peers as an example of best practice which has led to Dr Lee presenting her work to leading professional bodies in mental health and to the All Party Parliamentary Group for Veterans.
At the event, a short film was shown in which Gemma, a veteran who has accessed the South Central OpCourage service, said:
"I served in the Royal Medical Corps for 18 and half years before I was medically discharged.
"I was out of the armed forces for about 14 months and feeling like I was failing. I didn't want to be the burden I felt I'd become but getting help was considered weak.
"Treatment for myself was quite intense, it was exhausting - and absolutely worth it.
"Before, I felt like I was a bit of a shadow. Now I can get back to what matters – and that's living not just existing. I'm a human being, I'm doing things, I'm participating.
Sulle, a veteran who has accessed the South Central OpCourage service, and met Minister Docherty at the event said:
"I attended two mental health service providers. They weren't the right fit for me but then I found OpCourage. As soon as I walked through the door I knew they were right service for me. So professional. They could see what I couldn't see when I told them what I had been through. They showed such empathy and they were fantastic."
Major Dan Brooks, Armed Forces Lead at Berkshire Healthcare NHS Foundation Trust and a serving officer in the Army Reserves - currently mobilised to command in the Falklands, said:
"It's been a great honour and privilege to welcome the Minster today to showcase the impact that our vital services have for veterans.
"As well as expanding our OpCourage service, in the last 12 months we have gained Veterans Aware and Silver Defence Employer Recognition Scheme accreditations and launched what we believe is the NHS's first ever Veterans Staff Network.
"The transferable skills and experience gained through active service have so much to offer civilian life and we've come a long way in creating employment opportunities for the armed forces community. Quite simply, Berkshire Healthcare is an amazing place to work for people with a military background and I'm committed to giving veterans every opportunity to really excel with us."
A veteran is anyone who has served in the UK armed forces, no matter how long for or how long ago – even if just for one day.
According to the NHS Five Year Forward View for Mental Health, only half of veterans who experienced mental health issues such as PTSD or depression sought professional help. When they did come forward, many had already experienced difficulties for years and were often still not referred on to the right kind of specialist care.
NHS England, which plans and funds veterans mental health services, is asking for views and experiences of accessing physical and mental health services for veterans with an online survey to help shape how these services are provided in future.
Find out more and complete the survey to have your say. Survey closes 22 May 2022.
The visit comes amid the 40th anniversary of the Falklands War, the last armed conflict that the British fought alone, which took place from 2 April-14 June 1982.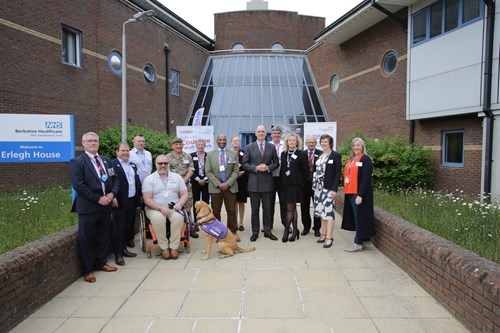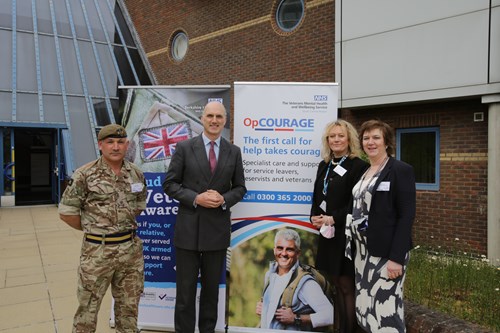 Find out more 
If you have served in the armed forces at any time, no matter how long ago, and you are experiencing signs of a mental health difficulty you can refer yourself directly to OpCourage, the NHS Veterans Mental Health and Wellbeing Service.
Typical issues may be trouble getting to sleep or staying asleep, worrying too much, feeling stressed or on edge, drinking too much, feeling angry or down.