World suicide prevention day 2020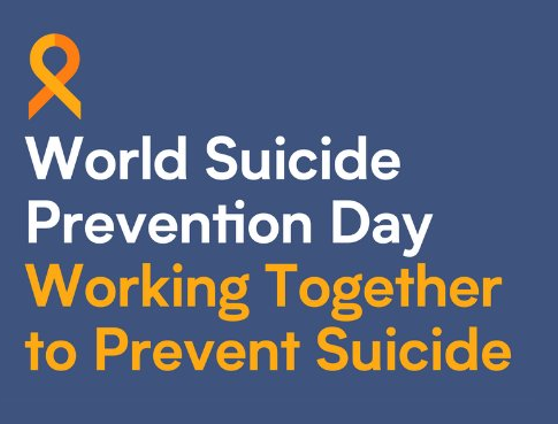 The CRHTT contact details on this page were updated 1 October 2021
Today (September 10) is World Suicide prevention day.
According to the World Health Organization (WHO), over 800,000 people take their own life each year – that's around 1 person, every 40 seconds. In the UK, that's more than 6,800 a year.
For many, 2020 has been a very tough year.
Changes to jobs, not being allowed to see loved ones, and not going outside as much has had an impact on a lot of people's mental and physical health.
The important thing to know is that you don't have to struggle with difficult feelings and thoughts alone.
If you're having suicidal thoughts, there is help and support available right now if you need it. 
Step Closer
The theme for World Suicide Prevention Day 2020 is Step Closer.
To some, a smile is a simple gesture. But to someone thinking about suicide it can be the first step towards life.
There are actions we can all take to look out for others and help prevent suicides.
Watch the Step Closer video from the International Association for Suicide Prevention (IASP) and visit their website to find out more.
Join the #StepCloser conversation on Twitter 
Are you having suicidal thoughts?
Having suicidal thoughts can be very different from person to person. However, if you start to consider any of the following, get in touch for help
You desperately want a solution to your overwhelming despair and can't see any other way out
You don't care if you live or die and are taking more risks or living recklessly
You don't actively want to kill yourself but see it as a release or a way of taking control
You don't know why you are having these thoughts or what to do about it
Your thoughts have got more intense or worse recently with the impact of the pandemic
You can talk to us in total confidence to people who are experienced in listening to those with suicidal thoughts, feelings and plans.
Please know that there are people who can help you, or a loved one you're concerned about, right now. 
Who you can contact
Our Mental Health Crisis Team
If you need urgent help, but it's not an emergency, you can call our Mental Health Crisis Team
Call 0300 365 0300
Call 0800 129 9999
If you need emergency help, please call 999. 
Samaritans
You can call, email, write them a letter or download their self-help app to help you keep track of how you're feeling and stay safe in a crisis
Visit the Samaritans website (opens new browser tab)
Call 116 123
Emailjo@samaritans.org
NHS
Call your GP – ask for an emergency appointment
Call NHS 111 out of hours – they will help you find the support and help you need
Contact your mental health crisis team – if you have one
Read NHS advice if you're having suicidal thoughts 
Talking Therapies
Talking Therapies is our friendly and approachable NHS service that offers support if you're coping with challenges like depression, stress, anxiety or phobias.
If you're aged 17 and over and living in Berkshire, we can help you overcome the mental health challenges you're facing. 
We're available for contact 8am to 8pm Monday to Thursday, and 8am to 5pm on Fridays.
Visit Talking Therapies website (opens new browser tab)
Campaign Against Living Miserably (CALM) – for men
Call 0800 58 58 58 – 5pm to midnight every day
Visit the CALM chat area on their website (opens new browser tab)
Papyrus – for people under 35
Call 0800 068 41 41 – Monday to Friday 9am to 10pm, weekends and bank holidays 2pm to 10pm
Text 07860 039967
Email pat@papyrus-uk.org
Visit the Papyrus website (opens new browser tab)
Childline – for children and young people under 19
Call 0800 1111 – the number will not show up on your phone bill

Visit the Childline website (opens new browser tab)
Grassroots Suicide Prevention (ASSIST)
Find a full list of guides and contact information, including advice on how to cope with bereavement.
Visit the Grassroots Suicide Prevention website (opens new browser tab)
Healthtalk
Listen to how others have coped with depression and suicidal thoughts on Healthtalk.org.
Visit the Healthtalk.org website (opens new browser tab)
Zero Suicide Alliance
The Zero Suicide Alliance (ZSA) is a collaboration of National Health Service trusts, charities, businesses and individuals who are all committed to suicide prevention in the UK and beyond.
Visit ZSA website (opens new browser tab)