You're invited to our AGM 2021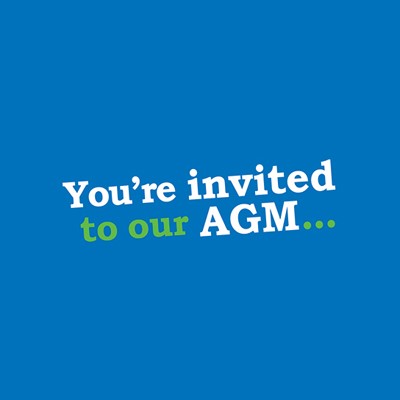 Our 2021 AGM has now taken place. You can watch a video recording of the meeting and read the meeting notes and questions and answers, on our website.
Read more about our 2021 AGM (opens new browser tab)
To continue keeping everyone safe, our Annual General Meeting (AGM) will be streamed online again this year via Microsoft Teams on Wednesday 22 September 2021 from 2pm-3.15pm.
Save the day and join
Save the date in your calendar (iCal file)
You can join the event from anywhere, on any device, from your PC using either the Microsoft Teams app or your internet browser. If you'd like to join the event on your smartphone, please download the Microsoft Teams app from your device app store ahead of time.
Teams is free to use, all you need to do is enter your name when you join the stream.
Download Microsoft Teams from Google Play (opens a new browser tab)
Download Microsoft Teams from Apple Store (opens a new browser tab)
Council of Governors report
Read our Council of Governors report (pdf)
Agenda for the day
See the agenda for the day (pdf)
Our AGM will be opened by our Chair, Martin Earwicker, who will also give a presentation on the work of the governors. 
This will be followed by updates from Julian Emms, our Chief Executive, and Paul Gray, our Acting Chief Financial Officer.
There'll also be an opportunity for anyone who attends to ask questions through our live Q&A chat function.
This year, our special presentations will cover:
Adapting our Neuro-rehabilitation services
Find out how we've adapted during the pandemic to continue to provide rehab and empower patients with neurological conditions. We'll cover service provision, patient feedback, and our involvement in the National Stroke Network.
Developing an alternative to inpatient care for Children and Adolescent Mental Health Services (CAMHS)
Hear how we've developed an innovative, new service to provide intensive mental health care for young people to stay at home and be connected with family, friends, and school.
Both services will be happy to answer questions through the Teams Q&A function after they have given their presentation.
Find out more
Are you interested in keeping up with the latest updates from Berkshire Healthcare. We need your help to shape our future and make sure that we're providing the services and support you need locally.