Support with COVID-19
If you're showing symptoms of COVID-19, please do not come to our hospitals or clinics.
Instead, contact your service to inform them and rearrange your appointment.
You can find the latest COVID-19 information and guidelines from the NHS and Public Health England (PHE) websites.
Home visits from us
If you're expecting a home visit from us, please contact us if you or anyone in your home are showing symptoms of COVID-19.
Depending on your needs, we may be able to offer an alternative such as online consultations/Skype chats, or a call if you're unable to attend an appointment.
You can find advice if you're looking after children or young people, from our CYPF website.
Visit our CYPF website (opens new browser tab)
The Royal College of Paediatrics and Child Health, along with Healthier Together, have put together this useful infographic around the symptoms of coronavirus and children: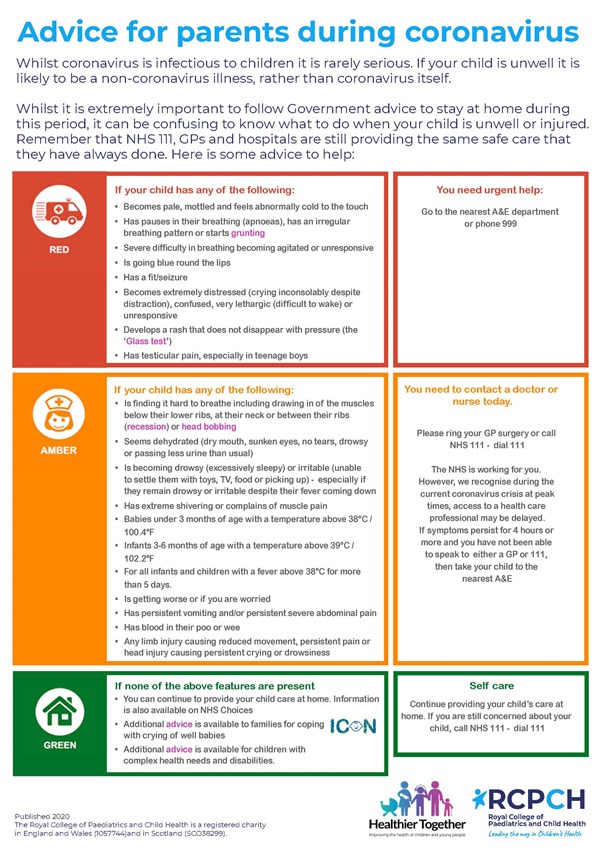 Supporting your recovery after COVID-19
As you find yourself recovering from COVID-19 you may still be coming to terms with the impact the virus has had on both your body and mind. 
This website helps you to understand what has happened, what you might expect as part of your recovery, and what you can do to help yourself recover and look after your wellbeing.
Visit the Your COVID Recovery (NHS) website) (opens new browser tab)
COVID-19: Supporting  your recovery 
This website from Lancashire Teaching Hospitals NHS Foundation Trust has information to help you with your recovery after you've been discharged from hospital following COVID-19 treatment.
Visit the COVID-19: Supporting your recovery website (opens new browser tab) 
The website can also be used if you've remained at home during treatment and recovery.
The information is to be used as a guide only. It shouldn't replace any individual advice you may have received on discharge from hospital. If you have any concerns about ongoing or worsening symptoms, please contact NHS 111.
Call NHS 111